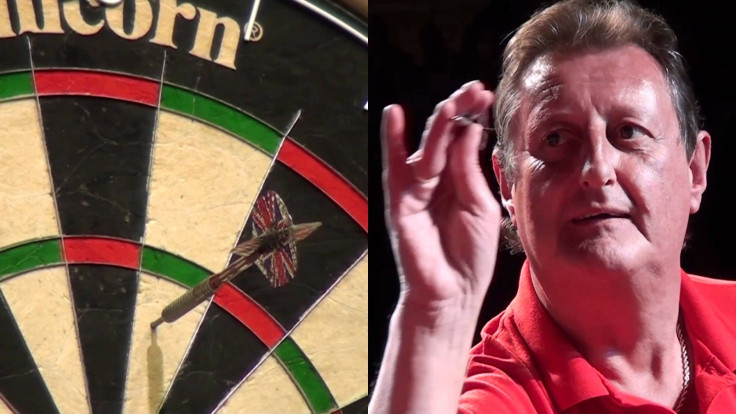 Darts legend Eric Bristow has caused an uproar after a series of "disgusting" tweets about the ongoing football sex abuse scandal.
The five-time world champion, nicknamed The Crafty Cockney, tweeted on Monday (28 November) that if ex-youth football coach Barry Bennell, who is at the heart of the scandal, had tried to abuse him, he would have "sorted that poof out".
Bristow also went on to say that the players who spoke out about the abuse were "wimps", drawing outraged criticism.
One of Bristow's tweets read: "Might be a looney [sic], but if some football coach was touching me when I was a kid, as I got older I would have went back and sorted that poof out."
He added: "You got to sought him out when you get older or don't look in the mirror. Glad I am a dart player. Proper men."
More than 20 former footballers have so far come forward with allegations of sex abuse, which took place when they were youth players.
Bennel, now 62, was jailed for nine years at Chester crown court after admitting 23 charges of sexual offences against six boys aged nine to 15 in 1998.
The former Crewe Alexandra coach was taken to hospital on Monday (28 November) after he was found unconscious in a hotel room in Stevenage.
One of the players to recently speak about his alleged abuse at the hands of the coach was Steve Walters, who was one of hundreds of people who took to Twitter to criticise Bristow's comments.
He said: "Disgusted with Eric Bristow's remarks tonight #stoneagementality".
Bristow was awarded an MBE in 1989 for his contribution to the sport of darts. Despite the backlash he caused, he remained unrepentant about his comments in later tweets.
He said: "What I was saying was when the football lads got older and fitter, they should have went back and sorted him out.
"You people replying don't twist what I sent out. I tell the truth. If you don't like it, tough."