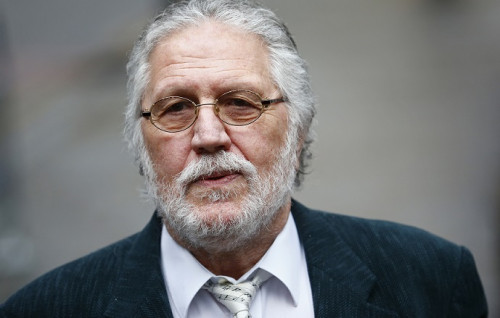 Dave Lee Travis has been found not guilty of 12 counts of indecent assault, with the jury failing to reach a verdict on two other charges.
Travis, 68, faced accused of 13 counts of indecent assault and one count of sexual assault relating to 11 women, including a 15-year-old girl, between January 1976 and November 2008.
Following a trial at Southwark Crown Court, Travis has now been cleared of 12 allegations of indecent assault.
After four days of deliberating, the jury could not reach a decision on the final indecent assault charge or the one sexual assault allegation against Travis.
Judge Anthony Leonard told the jury he would accept a majority verdict of at least 10 jurors agreed on each of the 14 charges.
Prosecutors must now decide if the former Radio 1 DJ should face a retrial for the remaining two allegations.
Travis, charged under his real name of David Griffin, denied all the charges. He described the accusations against him during the trial as "outright lies" from women who could "smell money".
The allegations against Travis included claims he molesting a woman during a pop concert by the 1970s group, Showaddywaddy.
A former BBC trainee also claimed he "jiggled" her breasts during a live Radio 4 broadcast. He was also accused of assaulting a woman during a filming of Top of the Pops.
During his summing up of the case, Judge Anthony Leonard warned jurors not to be influenced by other recent celebrity sex abuse allegations trials, particularly the acquittal of Coronation Street star William Roache.
Travis was arrested under Operation Yewtree, the Met Police investigation into allegations of sex abuse set up in the wake of the Jimmy Savile sex scandal.