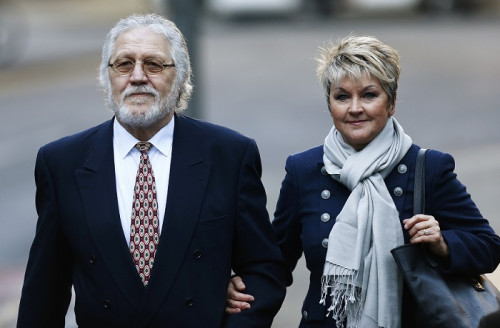 Former Radio 1 DJ Dave Lee Travis has described his "year and a half of hell" after he was found not guilty of 12 counts of indecent assault.
Travis, 68, said he felt like he had gone through two trials – one in the courts and one in the media - following his arrest under Operation Yewtree.
Travis, of Mentmore, Buckinghamshire, faced allegations dating back to 1976.
The Southwark Crown Court jury could not reach a decision on two charges - one of indecent assault and one of sexual assault. The Crown Prosecution Service will decide if there will be a retrial for those allegations.
Outside the court, Travis said he was not "over the moon" about the verdicts.
"I do not feel like there is a victory in any way, shape or form," he said.
"On the contrary, I think you already know that I have been through a year and a half of hell on this."
As well as the emotional distress, Travis said he was forced to sell his house to pay the legal costs.
"I did lose my reputation as well, which I may try and get back later," he added.
"I've had two trials - one by media and one by crown court. In all honesty, I prefer trial by the court.
"All I want to do know is go home and relax with my wife, who has also been suffering through all this with me and been by my side all this time."
Travis, charged under his real name of David Griffin, denied all charges.