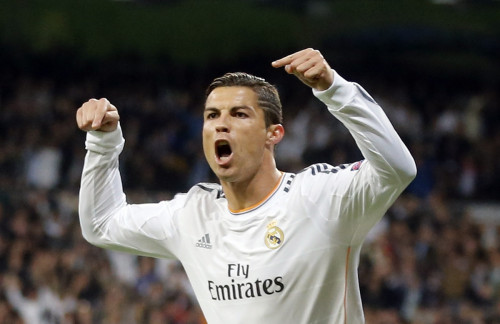 David Beckham is reportedly planning an MLS super-deal to bring Cristiano Ronaldo to his new Miami soccer franchise in the twilight of his Real Madrid contract in 2017.
The Sun on Sunday quoted an MLS source claiming that Becks wants the world's greatest player to boost the franchise and the MLS league as a whole.
"Becks understands the need for a big, big name in the team when it gets going," the source said.
"And none come bigger than Ronaldo — the world's greatest player.
"Ronaldo loves America and all that it offers.
"It's not a secret he has thought about finishing his career here, about living here — so a deal like this could be perfect for him.
"It is a long way off yet — we're talking 2017 — but it clearly demonstrates the ambition of the Beckham franchise."
The Portuguese striker has previously declared his intention to play in the MLS before his career ends.
In the 2012/13 pre-season, Ronaldo joined his Real Madrid teammates in a North American training camp where he commented on the league.
"I think they do it well," he said of the MLS.
"To come here and do the preseason, for me it's great, because this county is brilliant - the mentality of the people, the conditions.
"(They) are in the right place. I think the soccer here, they do it the best (they) can, but it can be better. So if I can help there to be better soccer here - they're great, they are in a good way, and I hope to come here to play one day."
Beckham became the first former sports professional to buy an MLS franchise and has admitted that he wants to attract the top stars to the Florida area.
"We will want to bring some of the best players to Miami to play for this team," he confirmed. "I have seen what happens when you bring great players in.
"Yes, we will bring great players in. The fortunate thing about my career is players are already interested in coming to Miami."