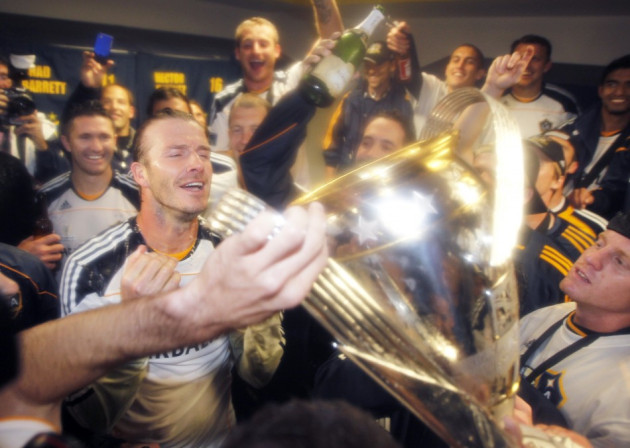 David Beckham has ruled out a January move to the Premier League as speculation linking him with a move to Paris Saint-Germain increases.
The former England captain helped LA Galaxy secure victory in the MLS Cup final on Sunday but said he does not envision a return to England when his contract expires at the end of December.
"I played for the biggest club in England and couldn't see myself playing in another English shirt," he told BBC Radio 1.
"I've got options, which is amazing at my age. A couple of big European clubs are after me
"I have a decision to make and I haven't made it yet."
The midfielder is set to take part in LA Galaxy's December tour of Indonesia, the Philippines and Australia but has refused to rule out extending his stay in Los Angeles.
Galaxy coach Bruce Arena would like to see Beckham stay at the club.
"David is a champion. I've been around great athletes and competitors in my life in different sports and this guy is as good as they come - he has an unbelievable desire to win and compete," Arena said.
"If he decides to get on his horse and ride into the sunset or go elsewhere or retire, I support that. He's earned it. He's really earned the right to make the kind of decision he wants to make."
Beckham's five-year stay in America culminated in a 1-0 victory over Houston Dynamo at the weekend and the former Manchester United star admitted he could feature in the MLS next season.
"I might still be here next year playing," he added. "I need to sit down with friends and family and decide what's best for me.
"I have enjoyed everywhere I have played and it doesn't matter where I finish my career."
Beckham, who won six Premier League titles with Manchester United and a La Liga crown with Real Madrid, secured his first MLS championship in the final match of his five-year deal.
"It's about time," said Beckham, who could yet have a sequel with the Galaxy if team officials can persuade him to return.
The player said that he could not imagine playing for another English team when he left Manchester United in 2003.