David Beckham and Son Brooklyn 'Shaken' in Car Crash After Arsenal Training Session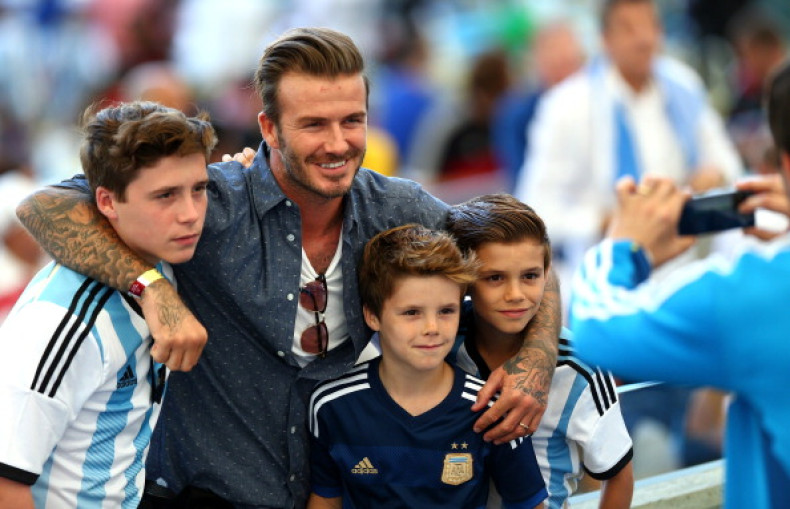 David Beckham and his son Brooklyn have been involved in a car crash in Hertfordshire, in which they both escaped serious injuries but a woman in another vehicle was taken to hospital.
The accident happened outside Arsenal's training ground in London Colney, Hertfordshire, on Saturday at 1.29pm after the former England captain picked up his son from a match against Brighton, The Telegraph reported.
Police would not confirm Beckham was involved in the crash, but said a grey Audi RS6 had collided with a silver Mitsubishi Colt adding that the driver of the Audi was slightly injured.
A source told the newspaper: "They were shaken. It was quite a heavy prang at quite a speed but everybody walked away uninjured. Everybody's fine. Thankfully the car's airbags deployed."
Brooklyn, who plays for Arsenal under-16s, had just finished playing against Brighton's under-16s.
Thomas Cadman, representing Brighton, said on Twitter: "Weird to play against Brooklyn Beckham earlier. Even weirder to be currently stuck behind David Beckham as he has crashed his car."
Archie Davies, a team-mate, also wrote: "Just seen David Beckham looks like he got in a car crash and hurt his shoulder. Star struck by seeing David Beckham tbh."
Brooklyn has been playing for Arsenal since he signed on a short-term contract in November.