Jeremy Corbyn's new approach to Prime Minister's Questions (PMQs) was put on hold when David Cameron attacked the left-winger over his party's economic credibility on 14 October. The Labour leader attempted to reinvent the weekly format by fielding questions from voters, with the prime minister and opposition MPs deciding not to heckle Corbyn.
The tactic worked during Corbyn's first outing at the dispatch box on 16 September but with party conference season over and MPs back in parliament, the House of Commons reverted back to its combative and adversarial atmosphere.
The Labour leader first quizzed Cameron over his tax credits curb after claiming 2,000 people had emailed him about the issue. Corbyn highlighted the case of Kelly, a single mother of a disabled child, who is worried she will lose out because of the government's cuts.
The prime minister argued his administration's new National Living Wage of £9 ($14) per hour and extension of free childcare would benefit Kelly. But the prime minister halted his reply after Labour MPs heckled him over the reforms. "Hold on... sorry, what happened to the new approach? Questions asked so they can be responded to."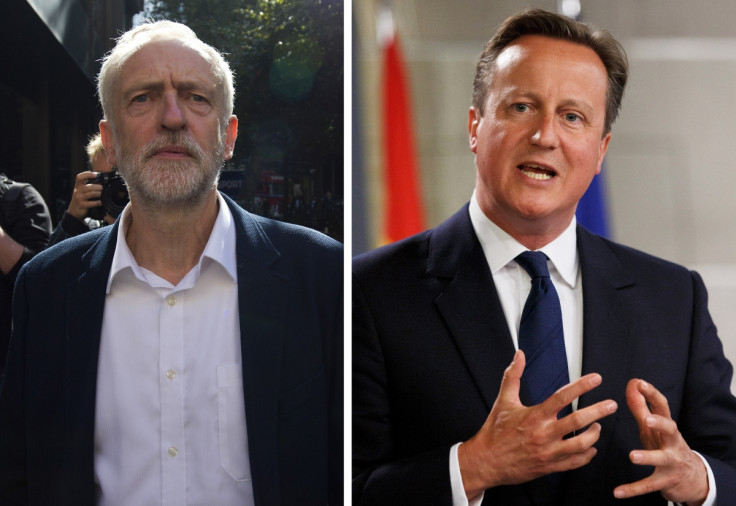 Corbyn then followed up by claiming Kelly would be £1,800 a year worse off by April 2016. "There another three million families in this country who will also be worse off by next April," he added. "Isn't the truth of the matter that this government is taking away the opportunities and limiting the life chances of hundreds of thousands of children from poorer or middle income families in this society."
A fired up Cameron hit back and claimed there were two million more people in work and 480,000 fewer children in workless households under his premiership. He also attacked Corbyn for not welcoming the official job figures released on 14 October, which revealed the unemployment rate had fallen to pre-financial crisis levels, and mentioned Labour's U-turn over George Osborne's fiscal charter.
"All of these people benefit from a growing economy, where wages are rising, where inflation is falling and where we are getting rid of our deficit to create economic stability. And it's that stability that we will be voting on in the lobbies tonight [14 October]," Cameron added.
Corbyn, noting the change in tone from the Conservative leader since their last PMQs, quipped: "The prime minister is doing his best and I admire that."