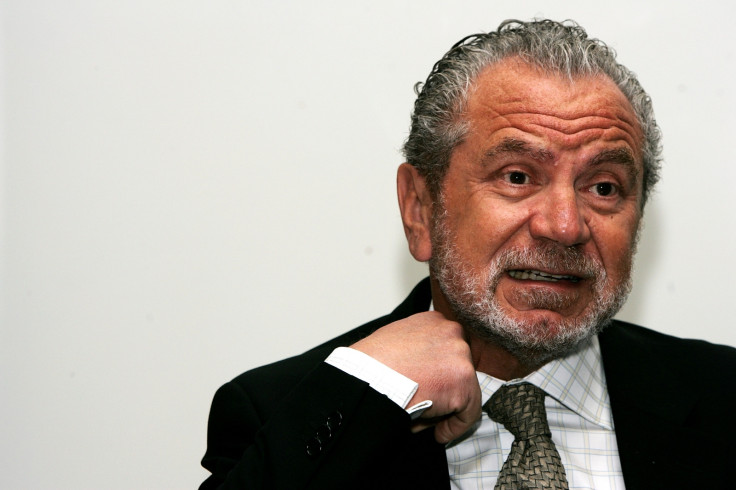 Labour are turning the tables on the Tories after David Cameron orchestrated a coup by appointing Lord Alan Sugar as his new enterprise tsar. The Apprentice star had served in the same role under Gordon Brown, but was replaced when Labour lost power at the 2010 general election.
Sugar later quit Labour after the party's disastrous election defeat in 2015, citing Ed Miliband's leftward shift and "negative" stance on business. Now leading Labour figures, such as shadow business secretary Angela Eagle, are using Sugar's past comments to attack the government.
The outspoken multi-millionaire attacked George Osborne in July 2012 in reaction to the UK economy slowing and after the Conservative Chancellor's infamous "omnishambles Budget" that March.
"I never rated him in the beginning. I don't know what his qualifications are to be Chancellor, but we need someone in there who has got a handle on the economics. He's proving too indecisive," Sugar told Your Money.
"I don't know if there is a reshuffle but if I were David Cameron I would seriously think about it."
But the scathing criticisms were apparently not one way, with Cameron allegedly revealing his distaste for Sugar and his hit reality show in 2008. "I hate both of them. I can't bear Alan Sugar. I like TV to escape," the Mirror reported the then leader of the opposition saying.
Meanwhile, Sugar will be tasked with companioning apprenticeships in his reprised role. The peer will talk to youngster in a series of roadshows across England, while also explaining how to set-up their own business.
"I'm delighted to be taking on this challenge. I built successful businesses with the support of hundreds of talented young people who learned their skills on the job – exactly the kinds of skills you learn in an apprenticeship," Sugar said.
"But not enough of our young people know about apprenticeships and what they offer, and too few feel empowered to set up their own business."