David Cameron heckled: Protesters interrupt prime minister's pro-EU speech at CBI
David Cameron shrugged off protesters who interrupted the speech he was making at the CBI (Confederation of British Industry) to say he will campaign "vigorously" for Britain to remain in the EU.
The prime minister was speaking at the business group's London headquarters when he was heckled by protesters who rose as he was talking about deficit reduction, holding signs saying "CBI = voice of Brussels" and chanting "CBI, the voice of Brussels."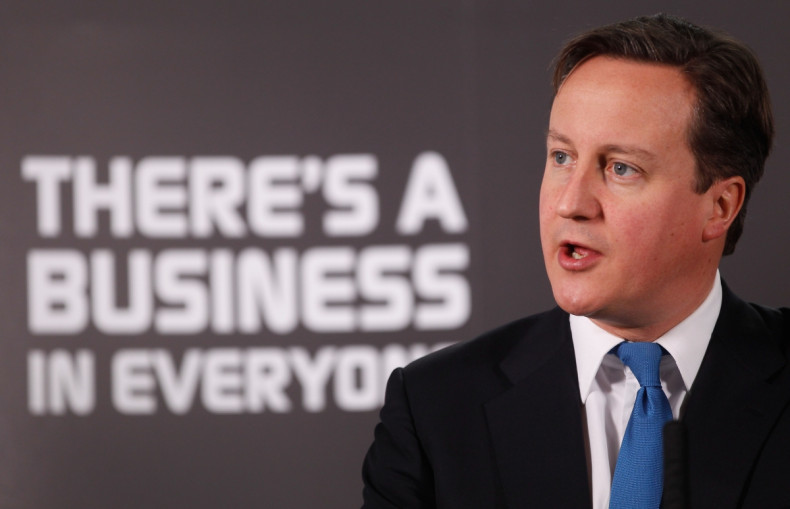 Cameron responded: "We're going to have a debate in a minute. If you wait for a second you can ask me a question rather than interrupting what is a very good conference. Come on guys, if you sit down now you can ask me a question rather than making fools of yourself by just standing up and protesting."
He then quipped: "Even I can remember that script without any notes."
In a prelude to a Cameron will send to the president of the European council Donald Tusk on Tuesday (10 November), Cameron set out his position on EU reform.
"I am not satisfied with the status quo we have on Europe. The things I want fixed whether it's making a more competitive Europe, whether it is making sure we are out of an ever closer union' whether it is making sure there is proper fairness between those in the Euro zone and those out of the Euro zone or whether it is reducing the pressures we face through immigration, these are big important changes and I think it is vital that we achieve them."
He admitted "ruling nothing out" if he failed to achieve the changes he wanted ahead of a referendum on membership he has promised will happen by the end of 2017
Responding to claims from the No campaign that Britain should sever its ties with the EU and sign a trade deal like Norway, Cameron said it would be a bad idea.
"It is not a good deal," he told the delegation. "They pay more per head into the European Union than we do they take more migration than we do and yet they don't have a seat at the table to determine what the rules are."
'Strong economy'
On the economy, Cameron pointed to the Conservative's record in power and that 900,000 more business had been created in the last five years and employment risen by 2m.
"I think we are in a strong position," he added. "The economy is growing unemployment is coming down, business is thriving. All over the world people cam see this is an very enterprising place to come and invest. We still haven't finished the work on the deficit. It's come down by half, soon to be down by a third but we've still got to finish the job."
Other than the question on the EU, Cameron said the other challenge the country faced was the deficit. But the prime minister stuck to his guns on running a budget surplus by 2019.
"By 2019 this country would have been growing for nine or ten years...if you're not putting money aside for a rainy day, if you're not paying down your debt to GDP ratio then when are you going to do that?"