David Cameron joins in with Arnold Schwarzenegger's Snapchat in jibe at Donald Trump
Cameron makes his first notable appearance since quitting the Commons in September.
Former governor of California Arnold Schwarzenegger has teamed up with ex-British Prime Minister David Cameron in a Snapchat video that appears to be a dig at US President Donald Trump.
The short video shows both men embracing each other as Schwarzenegger calls Cameron, "My good friend," while Cameron responds by calling him, "The governor" claiming, "He did a great job and I'll be back", referring to his famous catchphrase in the 1984 film The Terminator.
The duo previously linked-up in 2007, when Cameron visited California and received several of the Hollywood star's favourite films on DVD.
It is not known why the former Conservative MP, who infamously resigned following Britain's vote to leave the EU, was in Schwarzenegger's company. He is currently writing his memoirs on his time at Number 10, which are due to be released next year.
The video is widely being viewed as a response to Trump's tweet stating that the Austrian-born former bodybuilder "did a really bad job as governor of California".
Trump, a former business mogul, has been involved in a spat with the actor-turned-politician after criticising Schwarzenegger on Twitter last month for his performance as host of the rebooted Apprentice.
He reiterated his remarks while speaking at the National Prayer Breakfast- an annual event hosted by the United States Congress and organised by the Fellowship Foundation on Thursday (2 February). The commander-in-chief encouraged a 'prayer' for Schwarzenegger following poor ratings since he took over the helm.
"When I ran for president I had to leave the show. They hired a big movie star to take my place, and we know how that turned out.
"The ratings went right down the tubes, it's been a total disaster and Mark will never bet against Trump again and I want to just pray for Arnold, if we can."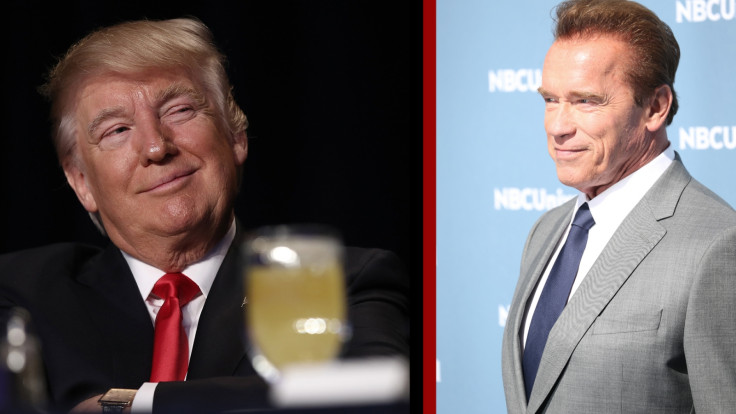 This resulted in a response from Arnie on Twitter, titled 'The National Prayer Breakfast?'
"Hey Donald, I have a great idea. Why don't we switch jobs?" he said.
"You take over TV, because you're such an expert in ratings, and I take over your job. And then people can finally sleep comfortably again."
Speaking to Men's Journal, Schwarzenegger joked that he wanted to arrange a meeting with Trump so he could "smash his face into the table".
© Copyright IBTimes 2023. All rights reserved.