Prime Minister David Cameron has said it is 'quite extraordinary' that Labour MP Naz Shah has not been suspended by the party over comments she made about Israel 'relocating' to the US.
Shah issued a full apology to the Jewish community after being slammed as anti-Semitic for saying she had the 'solution' to Middle East unrest.
But during Prime Minister's Questions Time on Wednesday (27 April), Cameron expressed his astonishment that Labour leader Jeremy Corbyn had not withdrawn the party whip from Shah, to which Corbyn responded the posts were 'historic' and she had given a 'fulsome' [sic] apology.
In a statement about the matter, Corbyn said: "What Naz Shah did was offensive and unacceptable. I have spoken to her and made this clear. These are historic social media posts made before she was a Member of Parliament. Naz has issued a fulsome [sic] apology. She does not hold these views and accepts she was completely wrong to have made these posts. The Labour Party is implacably opposed to anti-Semitism and all forms of racism."
The Bradford West MP had issued a short apology after political blogger Guido Fawkes exposed her comments, which were made in 2014 prior to her becoming an MP, but gave a full apology via Jewish News on 27 April. She told the paper: "For someone who knows the scourge of oppression and racism all too well, it is important that I make an unequivocal apology for statements and ideas that I have foolishly endorsed in the past.
"The language I used was wrong. It is hurtful. What's important is the impact these posts have had on other people. I understand that referring to Israel and Hitler as I did is deeply offensive to Jewish people for which I apologise."
In addition to sharing a picture depicting Israel being moved to the US, Shah had also compared Israel to Hitler in a separate post and wrote 'the Jews are rallying' in reference to an online poll about Israel and Palestine.
After details of the posts emerged, Shah quit her role as aide to the shadow chancellor, but the Labour Party faced calls from Tory MPs to withdraw the party whip from Shah over her comments.
The party has dismissed several members in recent weeks in a drive to root out anti-Semitism, although Labour leader Jeremy Corbyn did not made any suggestion that Shah would be sacked from the party.
There were also calls from Shah to step down from her role on the Home Affairs Select Committee, which is currently looking into anti-Semitism, with many suggesting the committee's work would not be taken seriously with Shah as a member.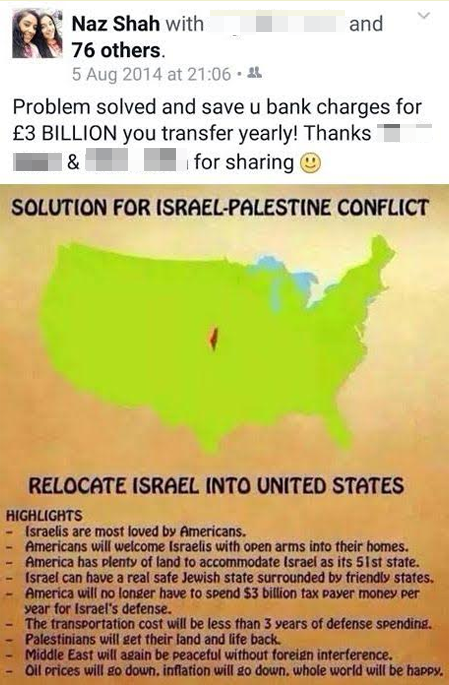 The MP added in her apology letter: "I have been asked to consider joining the APPG, (All Party Parliamentary Group) on British Jews because of the work I'm doing locally, which includes building relations through my local synagogue. If politicians put their hands up when they get something wrong it would help to restore faith in politics. I hope that by writing to those who I have hurt, I am practising as I preach and calling myself out.
"For those that I have caused hurt to, particularly the Jewish community, my constituents, friends and family, I sincerely hope my intentions and actions from here on in will win back your trust and faith in me."