David Cameron plans to end the final day of the Conservative conference in Manchester with a big housing policy announcement. The prime minister will promise to build 200,000 new "affordable" homes by 2020, when the next general election is held.
The proposal will see housing developers offer "starter" properties for first-time buyers under 40 in a bid to get more people on to the housing ladder. Cameron will bill the policy as a "major shift" and claim that he wants to change "Generation Rent" to "Generation Buy".
"When a generation of hard-working men and women in their 20s and 30s are waking up each morning in their childhood bedrooms – that should be a wake-up call for us. We need a national crusade to get homes built," he will say.
"That means banks lending, government releasing land, and yes – planning being reformed. Increasing home ownership means something else. For years, politicians have been talking about building what they call "affordable homes" – but the phrase was deceptive.
He will add: "It basically meant homes that were only available to rent. What people want is homes they can actually own. After all, the officials who prepare the plans for the new homes, the developers who build them, the politicians who talk about them... most of these people own the homes they live in.
"Don't they realise other people want what they've got – a home of their own? So today, I can announce a dramatic shift in housing policy in our country.
"Those old rules which said to developers: you can build on this site, but only if you build affordable homes for rent... we're replacing them with new rules... you can build here, and those affordable homes can be available to buy.
"Yes, from Generation Rent to Generation Buy... our party, the Conservative party ... the party of home ownership in Britain today."
Labour hits back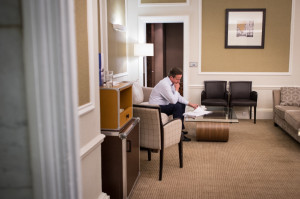 But Labour has pre-empted Cameron's speech and attacked his record on house building in Britain. "They claim to be the party of home ownership but on their watch it has fallen every year for the past five years and is now at its lowest level for a generation – for those under 35, it's down by over a fifth," said John Healey, the shadow housing minister.
"Their record of failure has also seen rapidly rising rents, more homelessness, higher housing benefits bill, and fewer homes built than at any time since the 1920s.
"After five years of failure on housing, the millions of people struggling to cope with their housing costs deserve a real plan for more affordable homes to rent and buy. And the country needs a new wide debate about how our deepening housing crisis can be tackled."
Cameron is set to deliver his keynote speech on 7 October. You can watch the address on BBC Parliament, BBC 2's Daily Politics show and Sky News from 11.30am BST.