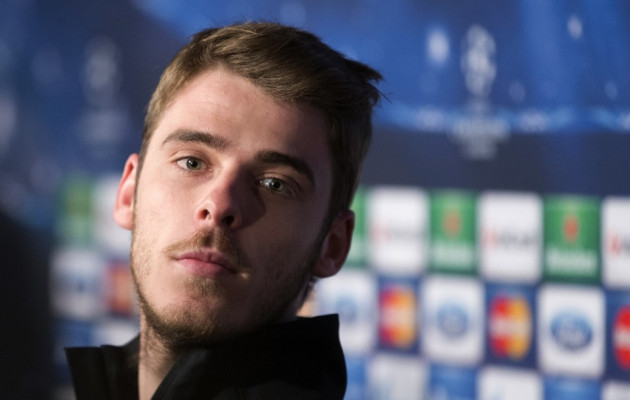 David de Gea lacked the commitment and aptitude to succeed in his opening years at Manchester United, according to former goalkeeping coach Eric Steele.
De Gea joined United from Atletico Madrid in the summer of 2011 and endured a shaky first season at Old Trafford with constant errors eventually contributing to Manchester City winning the Premier League title as Sir Alex Ferguson's side relinquished an eight-point advantage.
The Spanish international enjoyed a much-improved second season as United reclaimed their domestic crown, with De Gea voted into the Professional Footballers' Association Team of the Year after making 28 top flight starts.
But Steele, among the host of exits from United in the summer following the retirement of Ferguson - and who was replaced by Chris Woods as goalkeeping coach - says De Gea's approach to training and conditioning undermined his first two years in England's top flight.
"His first six months were horrendous," Steele told United fanzine 'United We Stand'. "One issue with him was that he was just 71 kilos. We worked with him on and off the field to make him more powerful.
"We changed his lifestyle. He would finish training and want to go home. When I told him to come back in the afternoon he'd ask: 'Why?'
"There were lifestyle issues. He'd sleep two or three times a day. He'd have his main meal late at night. He'd eat too many tacos. We pushed protein drinks on him straight after training.
"We physically made him drink. We had him in the gym a lot. He hated it. They don't do the gym in Spain as much. We needed to build his core strength.
"He could be very solemn in training, he was always better in a group. Solemn because he was tired, mentally and physically. I told him he needed to train better, that he was on show every day.
"There were times in his first season when he trained poorly. I told him that players made decisions for managers, not the other way around. That he should be first, not last out for training."
After suffering problems in his first season at United, De Gea was linked with a return to Madrid, with his girlfriend continuing to reside in Spain while both Real Madrid and Barcelona were linked with making changes in goal with Iker Casillas falling out of favour and Victor Valdes nearing the end of his contract.
Steele admits he was forced to shield De Gea, first from the criticism that accompanied his early appearances for United, and then from rumours regarding his future at the club.
"Fans criticised him [De Gea]," Steele added. "The media, too. But the manager stuck by him and protected him in the media. He knew he had a long-term asset. He was only 19 and that was a risk, but the manager had been to watch him with me and knew how good he was.
"I told him not to get sidetracked, that if he did well at United then he'd have a great career. I said: 'Who would you go back to? One of the big two. Would you want to go to Real, rivals of Atlético?'
"No. It would have to be Barcelona, but he sees that United has been good for him. He captained Spain Under-21s in the summer off the back of his United form. He's going to be with the seniors now in a country with the best goalkeepers in the world.
"Yes, but there are still issues. He's living in a huge house with his mum and dad. He's got a beautiful girlfriend who lives in Barcelona. We pushed him to move on his own. Living with your parents helps and hinders."