Manchester United goalkeeper David de Gea wants to stay at the club despite Sir Alex Ferguson being reportedly ready to replace the Spanish goalkeeper.
De Gea produced two excellent saves to deny Fabio Coentrao at the Bernabeu on Wednesday as United salvaged an away goal in a 1-1 draw with Real Madrid.
United were linked with a move for Stoke City goalkeeper Asmir Begovic, but De Gea, who produced what is widely accepted as his best performance since move to the Premier League leaders against Madrid, has no plans to leave the club.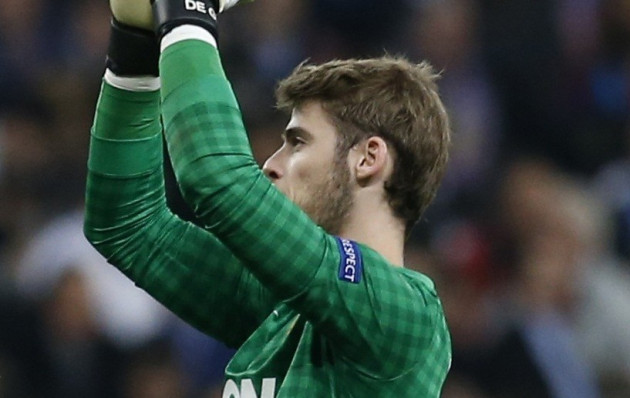 "I am very happy in Manchester. Every day I am happier," De Gea said.
"Stopping to Coentrao? That was just a very quick decision. I was acting on instinct.
"It was a great match. Real Madrid and Manchester United did very well. [Madrid] have a very strong attack, so we needed to be strong in defence.
"Real Madrid will attack at Old Trafford. They know they have to win to advance and we will do our best to stop them."
De Gea, playing in Madrid for the first time since his move from neighbours Atletico in the summer of 2011, also saved from Cristiano Ronaldo and Sami Khedira in the second half, with manager Sir Alex Ferguson leading the praise for the Spain under-21 international, hailing his rapid improvement.
"David was excellent and produced three or four really top saves," said Ferguson. "He's improving all the time.
"I'm pleased for the boy. This is a difficult place to come and we would have taken 1-1 before the game."
"He is maturing all the time and he has showed that. He has come to Madrid with a lot of pressure on him, being from Atletico, and he has produced the goods."
Second half substitute Ryan Giggs added: "It's good for him to come back to Madrid and put in such a good performance. He is a top keeper and his shot stopping is second to none."
United take on Madrid in the second leg of the Champions League last 16 tie on 5 March at Old Trafford.