Manchester United goalkeeper David De Gea has firmly established himself as the club's number one shot stopper for years to come, according to former Red Alex Stepney.
The 22-year-old's standing in the Premier League has grown throughout the season after defying many of his critics with game-saving performances and having become increasingly assertive.
An occasion which many have identified as a central moment illustrating the coming of age of the young Spaniard came in United's 2-2 draw with West Ham United at Upton Park on Wednesday night. The former Atletico Madrid custodian was on the receiving end of a brutal challenge from Andy Carroll as the on loan Liverpool man contested a header, but De Gea dusted himself off and calmly dealt with the Hammers' heavy aerial presence for the rest of the game.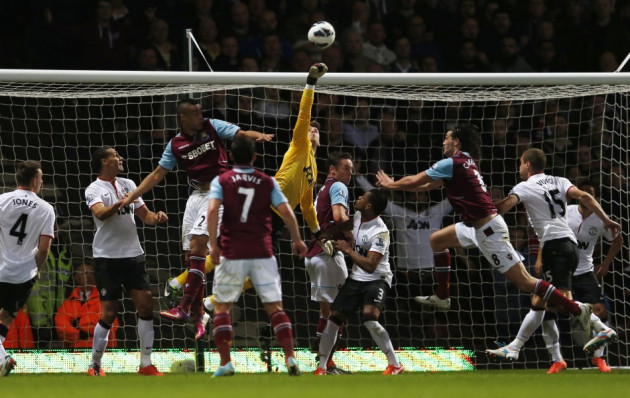 De Gea's performances have explicitly dismissed the notion that the Spaniard isn't cut out for the Premier League, believes United's1968 European Cup winning goalkeeper Stepney.
"David has become a man, Stepney told Manchester Evening News. "Since getting his job back following Anders Lindegaard's nightmare in the 4-3 win at Reading in December, he has gone from strength to strength,
"He is the number one now. Before we didn't really know who it was but David has made the job his now. The debate is over.
De Gea's reputation for being a fantastic shot stopper has seldom been in doubt since his arrival in England. Stunning saves in United's Champions League clash with Real Madrid and a sublime effort to deny Juan Mata in a FA Cup clash with Chelsea were further testament to the goalkeeper's abilities, but Stepney points to other incidents where he has proven himself to be more than ready for the aerial duals that define the English league.
"He was knocked out against Sunderland in a clash of heads with Nemanja Vidic," Stepney added. "But it didn't faze him. He still came out for more after that.
"It didn't deter him at all. I think that was possibly the moment he suddenly lost his European keeper label.
"Then he had the test against Carroll. The West Ham striker smashed into him but once again it didn't stop David collecting the ball in the air after it.
"He didn't root himself to his line as a result. He is so much better commanding his area now."