David Dimbleby tries to save Jeremy Corbyn from press mauling
"I don't think anyone could say that Corbyn has had a fair deal at the hands of the press."
BBC veteran David Dimbleby has intervened in the general election campaign, claiming that Labour leader Jeremy Corbyn is getting an unfair hearing from the ultra-adversarial British press.
"I don't think anyone could say that Corbyn has had a fair deal at the hands of the press, in a way that the Labour party did when it was more to the centre, but then we generally have a right-wing press," the Question Time presenter told Radio Times.
Dimbleby, who has inherited his "voice of the nation" status from his broadcaster father, Richard, also described the election as "very odd".
"If the Conservative story is how Theresa May is the 'brand leader', the interesting thing is that a lot of Labour supporters really like and believe in the messages that Jeremy Corbyn is bringing across," he said.
The 78-year-old's comments come after Corbyn's media team reportedly banned many newspaper outlets from following the left-winger on the campaign trail, instead favouring heavily-regulated broadcasters such as Sky News, BBC, ITV and Channel 4.
"Labour hopes to secure friendlier coverage – based around set-piece interviews and profiles – without having to contend with a cantankerous rolling mob of journalists," BuzzFeed News said.
Corbyn, a former secretary of the National Union of Journalists (NUJ) parliamentary group, has been mocked and taken to task by the press.
The London School of Economic's Dr Bart Cammaerts, who studied coverage of Corbyn in the UK press, said he was "delegitimised as a political actor" from the moment he became a candidate in the 2015 Labour leadership contest.
"This process of delegitimisation occurred in several ways: 1) through lack of or distortion of voice; 2) through ridicule, scorn and personal attacks; and 3) through association, mainly with terrorism," he said.
"All this raises, in our view, a number of pressing ethical questions regarding the role of the media in a democracy. Certainly, democracies need their media to challenge power and offer robust debate, but when this transgresses into an antagonism that undermines legitimate political voices that dare to contest the current status quo, then it is not democracy that is served."
But despite Corbyn's tough time with the media, Labour's poll ratings have dramatically improved throughout the campaign. The latest Survation survey, of more than 1,000 people between 26 and 27 May, put the Conservatives at 43% and Labour on 37%.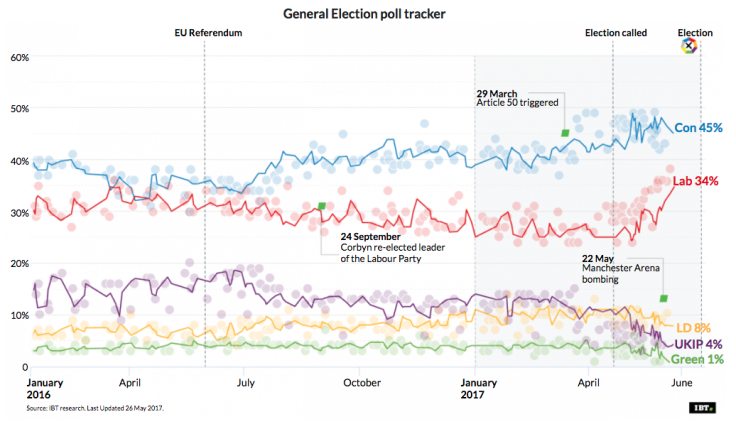 © Copyright IBTimes 2023. All rights reserved.