Where Labour and Conservatives stand on immigration
Learn about the main parties' policies on migration at a glance as the 8 June vote looms.
Immigration was at the forefront once again when Theresa May and Jeremy Corbyn battled it out on the Sky News/Channel 4 general election debate on Monday evening (30 May).
This issue is the third most important for UK voters, behind the NHS and Brexit, according to an Ipsos MORI survey of more than 1,000 people between 31 March and 10 April.
The Labour leader, when challenged by an audience member, refused to commit his party to a reduction in numbers.
"I am not going to stand here and put a figure," Corbyn said. "Our prime minister has done that now in the third election and got nowhere near meeting that figure."
He added: "I would have thought that under a managed migration system it certainly would not go up any more."
So where does Labour stand on immigration? The party's manifesto promises to scrap EU free movement, with the UK entering into two-year-long divorce talks with Brussels.
The policy document also promises not to "scapegoat migrants nor blame them for economic failures", while implementing fair rules. The manifesto is not entirely clear as to what those rules are.
"Working together we will institute a new system which is based on our economic needs, balancing controls and existing entitlements," the document reads.
"This may include employer sponsorship, work permits, visa regulations or a tailored mix of all these which works for the many, not the few."
Elsewhere, the party, like the Conservatives, will re-introduce Migration Impact Funds, first rolled-out under Gordon Brown's Labour government. The initiative is designed to boost public sector funding for areas where immigration has "placed a strain".
On top of that, a Corbyn administration would take students out of the Office for National Statistics (ONS) net migration numbers.
"Labour welcomes international students who benefit and strengthen our education sector, generating more than £25bn for the British economy and significantly boosting regional jobs and local businesses," the manifesto reads.
"They are not permanent residents and we will not include them in immigration numbers, but we will crack down on fake colleges."
Can the Tories keep their promise?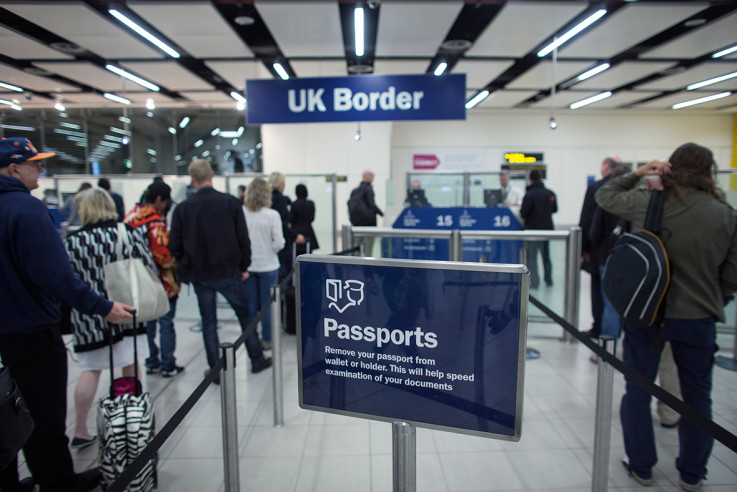 Oli Scarff/Getty
The Conservatives, in contrast, have controversially recommitted themselves to David Cameron's failed "tens of thousands" target.
The latest release from the ONS put net migration at 248,000 in 2016, down 84,000 from 2015.
"It is our objective to reduce immigration to sustainable levels, by which we mean annual net migration in the tens of thousands, rather than the hundreds of thousands we have seen over the last two decades," the Tory manifesto reads.
"We will, therefore, continue to bear down on immigration from outside the European Union."
A Conservative government would also continue to ask the Migration Advisory Committee, an independent body of top economists, to make recommendations about the UK's visa system and skills shortage.
Elsewhere, Home Secretary Amber Rudd would controversially hike the Immigration Skills Charge on companies employing migrant workers to £2,000 a year by 2022.
The Conservatives have promised to use the revenue generated by the levy to invest in in higher level skills training for workers in the UK.
The Tories would also keep students in the net migration figures and "toughen" visa requirements for students.
"We will expect students to leave the country at the end of their course, unless they meet new, higher requirements that allow them to work in Britain after their studies have concluded," the manifesto reads.
The commitments come before the general election on 8 June, with the Conservatives up to 14 points ahead of Labour.