For Phil Johnson, Labour's candidate for the so called "kingmaker seat" of Nuneaton, central England, the 2017 general election is a defensive one.
He has not seen Jeremy Corbyn in the Conservative-held constituency and there are apparently no plans for shadow cabinet members to visit this Brexit-backing part of the West Midlands.
"The strategy in this election from the Labour Party leadership is to hold on to the seats that we've got, rather than to support capturing seats back," he tells IBTimes UK over a cup of builder's tea, served up in one of Nuneaton high street's greasy spoon cafés.
Johnson was the head of the Warwickshire County Council's Labour group until the local elections in May, when he lost his Galley Common seat to the Conservatives.
The elections also saw former John Lewis boss Andy Street deliver a considerable blow for the Tories as he beat Labour MEP Sion Simon to become the new metro-mayor for the West Midlands. Nuneaton may not be in the combined authority, but Theresa May's Conservatives are on the march across the region.
So does Johnson blame Corbyn and his brand of Labour politics for his defeat? "There are a number of factors," he says. "I think the announcement of the general election two weeks before the county elections did take over the end of our campaign.
"And then the national issues took more prominence, and, yes, [Corbyn] is a factor. Jeremy's image isn't good with some people and unfortunately once you get tied with a certain image in the media that's very hard to shake-off."
Labour manifesto to the rescue?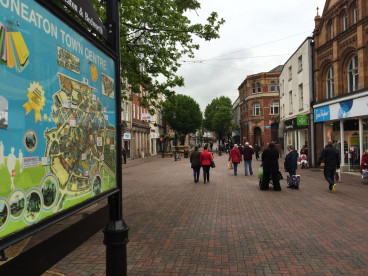 Johnson's assessment will make grim reading for Labour HQ. If the party wants to gain power, it has to take Nuneaton. The no-thrills town, which is made-up of aspirational working-class and middle-class voters, is what politicos call "White Van Man" country.
The seat switched from Labour to the Conservatives at the 2010 general election and voted 66% for Leave at the EU referendum last June. Where Nuneaton goes, England tends to follow.
Marcus Jones, who was not available for interview, is defending a majority of 5,000 votes. Johnson is hoping that the Labour manifesto, which promises to nationalise rail, energy and water firms, will provide him with some ammunition on the doorstep in his uphill struggle to unseat Jones.
"I was speaking to a guy last night who has been a Tory voter in the past and he's going to vote for us because he's concerned about the means-testing of the heating allowance and some of the policies for the elderly," the Labour candidate says.
Johnson adds: "Utilities and water are cutting through because people are sick of being ripped-off." But despite the clear water between Labour and Tories on policies, the election has taken a personality-driven, presidential turn.
An elderly couple, who describe themselves as traditional Labour voters, say they are not happy with Corbyn. "We won't be voting Labour this time," they reveal before rushing off. Angela, a former Ukip voter, is undecided. "They all say one thing, don't they?" she says.
Paul, a high-street butcher, thinks May is "probably the best we have got out of all of them". The picture is also looking bad for Labour in nearby Coventry, the car-making city behind The Specials' "Ghost Town".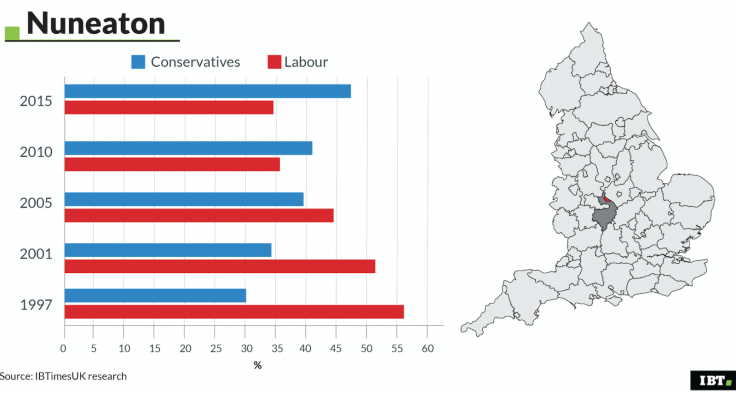 Lady Godiva turns blue?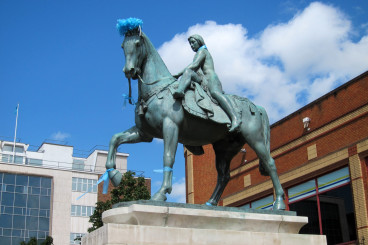 Terry Hall's talks of decline and unemployment is a thing of the past thanks to an economic boost from Warwick and Coventry University.
Jaguar Land Rover are also investing £450m in the Midlands, with local lads and the small manufacturers of Coventry's Bayton Road benefitting.
With a new injection of wealth, comes a fresh look at the political menu, not least in Coventry South where Labour's Jim Cunningham is defending a slim majority of just over 3,000 votes.
Conservative candidate Michelle Lowe, a councillor in Kent, tells IBTimes UK it would be "refreshing" for Coventrians to turn Tory. "It would be good for Coventry to have an MP from a different party than running the council," she says. "We could look at some of the issues and concerns through different eyes and a different lense."
But won't May's Brexit plans impact badly on Coventry's manufacturing base, which exports to the EU?
"I would say that's why we need a strong and stable government and we need a prime minister like Theresa May, who will hopefully have a good majority behind her in the House of Commons to back her to negotiate a unique and bespoke deal," Lowe says.
An unlikely ally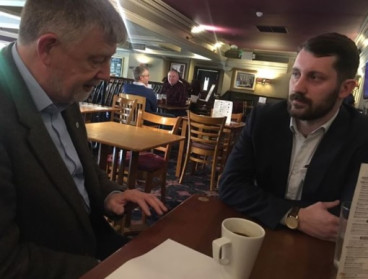 The vulnerability of Lady Godiva turning blue on 8 June has not gone unnoticed by Labour. Former Prime Minister Gordon Brown made his first major speech of the campaign at Coventry University, where he praised his former paymaster general Geoffrey Robinson.
Robinson, 79, is defending a majority of more than 4,500 votes in Coventry North West. Local party sources tell IBTimes UK that it will be tight in both seats at the election.
But Robinson, who was first elected in 1976, has some tricks up his sleeves, including handing-out Labour branded balloons to primary school children and their voter parents.
"People do know me, they know I work very hard for Coventry and I continue to. I think that's a pretty damn good reason for letting me go on doing the job that I have done for the past few years," he says.
Robinson and Cunningham are receiving unsolicited and probably unwanted support from an unlikely ally at the election.
Socialist Party firebrand Dave Nellist, a former Labour MP and Militant tendency supporter, is backing Corbyn and therefore Labour. Nellist, the national chair of the Trade Unionist and Socialist Coalition (TUSC), won more than 1,700 votes in Coventry North West in 2015.
"Those number of votes could make a difference in standing and not standing," he says. "Because we want a socialist in Number 10, we decided to stand down and campaign instead in trying to get [Corbyn] elected."
But does Nellist's endorsement of Labour risk pushing swing-voters towards the Conservatives? "I don't feel any responsibility for where people on the right might place their vote," he says. "Our responsibility as socialists is trying to get the maximum number of votes to get Jeremy into Number 10."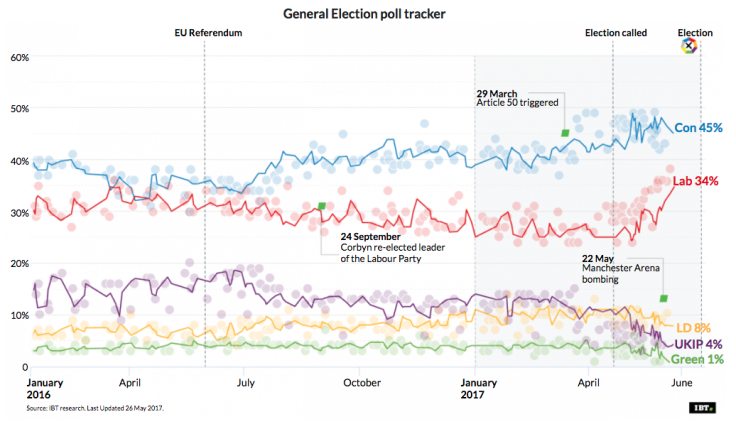 ---
The author worked a short unpaid internship with Geoffrey Robinson in 2010.
---