The brother of David Haines has led tributes to the British aid worker, whose beheading by Islamic State (Isis) militants was shown in a video released online by the militant group on Saturday.
In a lengthy statement released by the Foreign and Commonwealth Office, Mike Haines said: "My name is Mike Haines, I am brother to David Haines, who was recently murdered in cold blood.
"David was like so very many of us, just another bloke. Born in 1970 to parents who loved us both, our childhood was centred around our family.
"Holidays in caravans and tents, days away as a family, which we remember fondly. David and I were brought up to know right from wrong, although we might not with the innocence of youth have always chosen right.
"He was, in the right mood, the life and soul of the party and on other times the most stubborn irritating pain in the ass. He would probably say the same about me.
"After leaving school he worked with the Royal Mail before joining the RAF as an aircraft engineer. He married his childhood sweetheart Louise and in the due process of time had a wee lass Bethany.
"He was – and no doubt wherever he is – exceptionally proud of Bethany.
"David served with the UN in the Balkans, helping people in real need. There are many accolades from people in that region that David helped. He helped whoever needed help, regardless of race, creed or religion.
"During this time David began to decide that humanitarian work was the field he wanted to work in.
"David left the RAF and was employed by ScotRail. As with every job, David entered into it with enthusiasm. David met and married his second wife Dragana and they have a four-year-old daughter Athea.
"David was most alive and enthusiastic in his humanitarian roles. His joy and anticipation for the work he went to do in Syria is for myself and family the most important element of this whole sad affair.
"He was and is loved by all his family and will be missed terribly."
A Message to the Allies of America
The Islamic State's video, entitled A Message to the Allies of America, begins with recent news footage of UK prime minister David Cameron discussing Britain's foreign policy towards the Islamic State. It then shows Haines speaking to the camera in a desert before being murdered.
"My name is David Cawthorne Haines," Haines is heard saying in a forced message. "I would like to declare that I hold you David Cameron entirely responsible for my execution.
"You entered voluntarily into a coalition with the United States against the Islamic State just as your predecessor Tony Blair did, following a trend against our British prime ministers who can't find the courage to say 'no' to the Americans.
"Unfortunately it is we the British public that in the end will pay the price for our parliament's selfish decisions."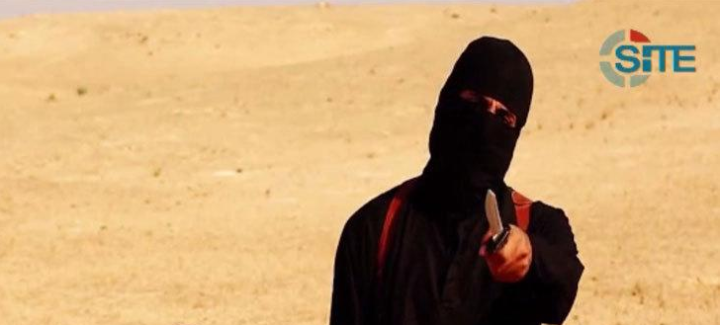 Haines' murder was condemned by Cameron as an "act of pure evil". In a statement issued by Downing Street, Cameron said: "This is a despicable and appalling murder of an innocent aid worker. My heart goes out to the family of David Haines, who have shown extraordinary courage and fortitude throughout this ordeal.
"We will do everything in our power to hunt down these murderers and ensure they face justice, however long it takes."
Labour leader Ed Miliband joined Cameron in condemning the killing. "I am sickened at the disgusting, barbaric killing of David Haines," he said. "He was somebody whose only purpose was to help innocent people, themselves victims of conflict. That Isil (Islamic State) would choose to kill him says everything about their warped logic and murderous ways."
Scotland's First Minister Alex Salmond also said in a statement: "It should be remembered that Mr Haines was in the region as an aid worker helping local people. His murder will be totally condemned by all people with any sense of humanity.
"Our thoughts, sympathies and prayers are with the family members and friends of Mr Haines who have demonstrated both dignity and courage over the past months."
Global condemnation
US President Barack Obama also condemned the brutal murder and said in a statement: "The United States stands shoulder to shoulder tonight with our close friend and ally in grief and resolve. We will work with the United Kingdom and a broad coalition of nations from the region and around the world to bring the perpetrators of this outrageous act to justice."
France also voiced its anger at Haines' "heinous killing", and called for international action against the Islamic State.
"The heinous killing of David Haines is yet another demonstration of why the international community must mobilise against [the Islamic State] – a cowardly and abject organisation," the French presidency said in a statement.
Prominent figures around the world joined in the chorus of condemnation, with Archbishop of Canterbury Justin Welby posting the following message on Twitter: "In every church let us pray for the family of David Haines, evilly killed in the place he was serving in love for its suffering people."
Conservative MP Sarah Wollaston said followers should remember David Haines as his family would wish, and urged them to refrain from circulating the video depicting his murder.
Tributes also poured in on Twitter from other prominent names including journalist and author Tony Parsons, CNN correspondent Jim Clancy and Colonel Richard Kemp, former commander of British forces in Afghanistan.
Haines, a 44-year-old father-of-two was captured by Islamic State militants in Syria in March 2013 while working for the Agency for Technological Cooperation and Development (Acted). He had worked in humanitarian aid since 1999 and had provided assistance to victims of conflict in Africa, the Balkans and the Middle East.