David Haye claims he would KO Anthony Joshua inside a round ahead of world title fight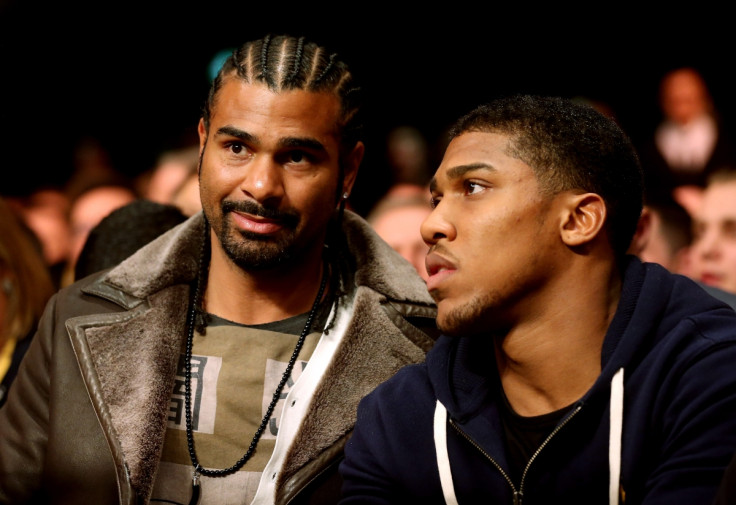 David Haye has suggested he could knock out Anthony Joshua inside one round. The 35-year-old puncher is eager to face the Olympic gold medal-winning star and has backed himself to make light work of the fight.
Joshua, 26, is set to face unbeaten American Charles Martin for the IBF world title at London's O2 Arena on 9 April. Haye said the much-anticipated bout will reveal whether Joshua has what it takes to become a genuine superstar.
"Anthony Joshua has got a massive fight next time up, for the IBF heavyweight championship of the world. He's fast-tracked himself, seriously. He's one of the best in the world and we'll fight out on 9 April just how good he is," Haye, a two-weight world champion, told the BBC.
"I believe he is the real deal, everybody who has seen him ... there's not really much you can take from that and go, 'No, he's not much good because of X, Y and Z'. He's had 15 fights and 15 knockouts. I've been supporting him from the start. I'd love to get in the ring and see just how good he really is.
"I'd have to get some big, big monsters as sparring partners for that one. He's an absolute unit, he's young – he's 26-years-old. I'm 35, you know, I'm the old guy, the old experienced veteran. He's the young buck. I'd love to get in there and show him a couple of things.
"But he's got bigger fish to fry at the moment. He's got a massive fight coming up on Sky Box Office – tickets sold out in about five minutes for that fight. I'm really looking forward to that. And if he can win the IBF heavyweight championship of the world, how big would a fight between us be? Me challenging for his heavyweight title."
Haye insisted the fight is likely to happen if Joshua wins the heavyweight title, suggesting the clamour from the British public will prove too hard to ignore. "If he wins this next fight, I'm pretty positive that public demand will say we gotta get the two best in there," he said.
"It might be a one-round job. I'm not saying that in a disrespectful manner. You know, as soon as I hit people on the chin, they stay hit. I hit them, they hit the floor – that's how it happens. It depends how long he can stay up for. I'm very fast, very agile and I punch ridiculously hard, so when you put those combinations together..."
© Copyright IBTimes 2023. All rights reserved.