David Haye returns to the ring for the second time since coming out of retirement when he takes on Arnold Gjergjaj at the O2 Arena on Saturday 16 February.
Where to watch
Haye vs Gjergjaj is available to watch live on Dave, with the programme scheduled to begin at 8pm GMT. Ring walks for the main event are expected to commence at approximately 9.45pm.
Overview
David Haye continues his attempt to return to the summit of boxing in his latest comeback against Kosovo-born Gjergjaj at the O2 Arena in London. The 'Hayemaker' saw off Mark de Mori inside one round in January in his first fight since undergoing career-ending shoulder surgery and is back to resume his bid to challenge again for a world title.
Haye returns to the same Greenwich venue that saw Anthony Joshua claim the IBF heavyweight title against Charles Martin in April, and the 35-year-old must go some way to match that performance. Joshua defeated the American inside two rounds, and after facing Dominic Breazeale in June is destined to star across the pond, signing a four-fight deal with Showtime TV.
It means that even if Haye does demolish Gjergjaj in the manner that is expected, he would be a long distance away from the Watford-born boxer or Tyson Fury – who defends his heavyweight crowns against Wladimir Klitshcko in July. A fight with Shannon Briggs, who is on the undercard at the O2 Arena, in September, may enhance his credibility but he requires another big name on his CV to reach previous heights.
Gjergjaj is likely to represent another moving target for Haye. The 31-year-old is fighting outside of his Swiss homeland for just the second time in his seven-year long professional career, and though unbeaten in 29 bouts he will not have experienced anything like what Haye and the London crowd will throw at him.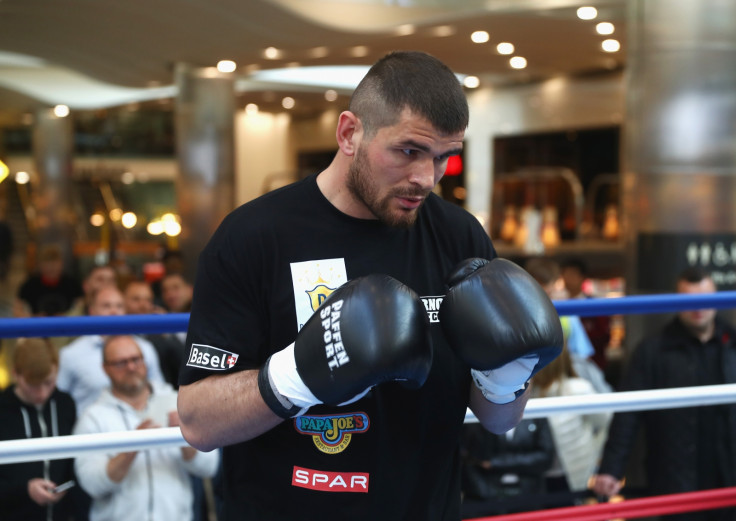 'The Cobra' – who has a fear of snakes – is a gym owner and shelf-stacker at his brother's convenience store, but there is no doubt his upbringing prepares him for a battle with Haye. One of seven siblings growing up in Gjakova – among the worst-hit cities during the Kosovo War – he fled the country aged 14, moving to Switzerland where he now resides.
At 6ft 5ins he towers above Haye, but with his last win coming against Croatian Marino Golez last December – a fighter who had previously been defeated by De Mori – he does not possess the body of work that suggests he could cause a major upset. It will however be fascinating to see if he can expose or highlight any loss of speed Haye may have suffered during his recent bulking up.
Former undisputed heavyweight champion Lennox Lewis says Haye does not the need the extra weight, which amounts to around 17lbs, as it will nullify the agility that helped him become a two-weight world champion. Haye insists his movement will not be hurt, but it might be the one prevailing issue to emerge from what is expected to be an otherwise comfortable evening for the Briton.
What they've said
David Haye: "It took a lot of mental focus to get through the injury and the time out of the ring. Your brain plays tricks, telling you how can you fight big guys again when you can't even open a door? It was a very difficult time to be positive.
"The 'boxer's muscle' – which fixes to the shoulder – was detached completely off the bone and had had to be reattached. It wasn't just about being able to punch again, it was about punching hard because the guys I fight are all three stone heavier. I can't pitty-pat. I have to give them some stick.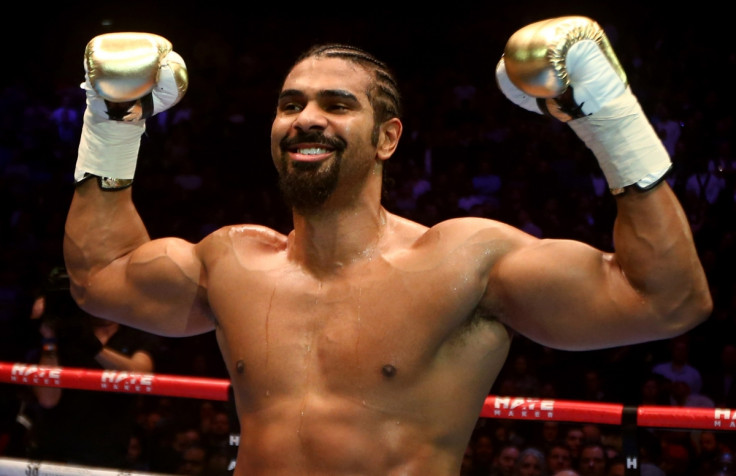 "So I still want to show the world that I am the best and there are some big boys out there to beat. There is no worry now that the muscle will go again. I've worked so hard on it, I can weight-lift even more with it than I could before.
Arnold Gjergjaj: "I have more confidence than everyone else on the table because everyone else on the table has lost fights. I am unbeaten and motivated. A ring is a ring and there is no problem where it is. I can also add to this fact that Floyd Mayweather never fought in Switzerland!
"I've been following David Haye for years and I know he's one of the best boxers on the planet but on Saturday there will be only one winner and it's me. I am prepared and I've trained with the best in the world with Wladimir Klitschko, Tyson Fury and Kubrat Pulev. It will be a bad surprise for David Haye. The thing that is important is this fight and then after that, I will look forward."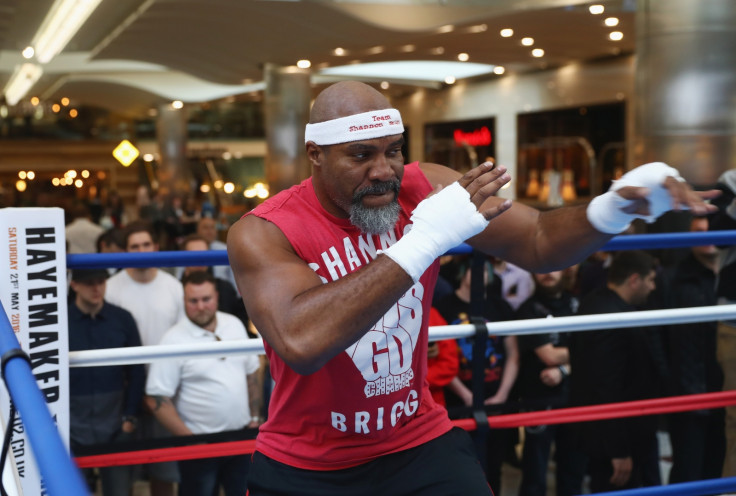 Records
Haye: 29 fights, 27 wins (25 via knockout)
(W) Mark de Mori – technical knockout – January 2016
(W) Dereck Chisora – technical knockout – July 2012
(L) Wladimir Klitschko – unanimous decision – July 2011
Gjergjaj: 28 fights, 29 wins (21 via knockout)
(W) Marino Goles – technical knockout – December 2015
(W) Denis Bakhtov – unanimous decision – June 2015
(W) Zoltan Csala – unanimous decision – February 2015
Prediction
Haye lives very much on the precipice of being forced into retirement for a third time should he suffer another defeat, but don't expect that to harm his performance against Gjergjaj. His opponent has never fought in the environment he will encounter in London and his experience is likely to be a short one.
Odds (via William Hill)
David Haye 1/50
Mark de Mori 12/1
Draw 33/1
Undercard
Shannon Briggs v TBC, Joe Mullender v Lee Markham, Floyd Moore v Yordan Vasilev, Ollie Pattison v Bryn Wain, Daniel Keenan v Dwayne Sheldon, Kay Prospere v Innocent Anyanwu, Nick Webb v Hari Miles, Joe Fournier v TBC, Fahad Al Thani v TBC.