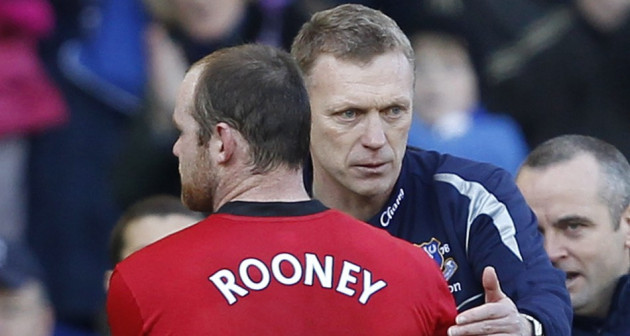 Asserting Authority
Moyes' disciplinarian approach while at Everton makes him a prime candidate for the toughest succession since Paul Rogers stood in for Freddie Mercury. A job fraught with problems is made all the tougher by the continued presence of Ferguson as a director, who, if his influence in the decision making process is to be believed, could effect Moyes' removal. You feel Moyes' job of gripping the dressing room is made all the more difficult by the elephant in the room. His immediate task, perhaps the hardest of all, relies on him getting the squad onside, and managing the transition after Ferguson's departure without discarding his legacy mercilessly.
Attracting big-money signings
Despite United's giant global appeal, much of the attraction of playing for such a sporting institution revolved around Ferguson, whose reputation was represented in dozens of column inches in the continent's newspapers upon the announcement of his retirement. Devoid of that unique selling point, Moyes faces the task of continuing to attract some of Europe's finest players to United amid the financial power of Chelsea and Manchester City. The addition of Marouane Fellaini at Everton suggests he has a comprehensive knowledge of the market, but he's now competing against bigger fish.
Cristiano Ronaldo
Such was the bond between Ronaldo and Ferguson that you could surmise from the latter's retirement that a return to Old Trafford for the former world footballer of the year has become less likely. However, coupled with his infrequent disillusionment at Real Madrid, Ronaldo retains a deep-lying affection for United, regardless of Ferguson's role at the club. There will come a point where Ronaldo inevitably issues a 'come and get me plea' and Moyes will be forced to make a decision between satisfying the support and making a strong stance without sentimentality.
Opening the Floodgates
Ferguson will tell you that of all his trophies, the first was the most difficult to attain. The FA Cup in 1990, after the replay against Crystal Palace, delivered the Scot his first piece of silverware and sparked a dynasty at Old Trafford. While only two managers have won the title in their first season at a new club in the Premier League, Moyes is under pressure in every sense of the word to open his account with what would be the first major trophy of his managerial career. He's been handed six years to lay the foundations, but confidence in his appointment will only be bred by success.
Replacing the Old Guard
Keep it quiet, but if Ferguson failed in any way during his spell at United, it was through not finding genuine replacements for Ryan Giggs and Paul Scholes. The reasons lie somewhere between there being insufficient quality elsewhere and the pair's frightening powers of recovery in their tender years, but while Moyes will be required to manage the evolution after Ferguson's departure, he must also fill the void of United's old guard. Giggs will stay for Moyes' first season in charge, while Scholes is still to pen an extension.
Wayne Rooney's Future
The England striker told Sir Alex Ferguson two weeks ago he was ready to leave United for pastures new but it is yet to be seen how he may be swayed following the appointment of Moyes, with whom he has enjoyed a fractious relationship since his days at Everton. Out of court settlements and subsquent apology aside, the pair's footballing past means Moyes could be the man to reinvigorate Rooney's United career, or just as likely, be the catalyst for an abrupt departure this summer. Moyes working in the best interests of the club, while ensuring their Premier League rivals don't benefit, will be crucial. Confident he can attract a replacement is just as important.