Much emphasis has been placed on the lack of excitement in the heavyweight division since the Klitschko brothers gained a monopoly on the world championship titles. However, on Friday night in Liverpool, David Price confirmed his status as heir to the throne.
His 82-second demolition of former Olympic gold medallist, and one-time world title challenger, Audley Harrison proved that he has the power to once again instil interest in a division bereft of excitement.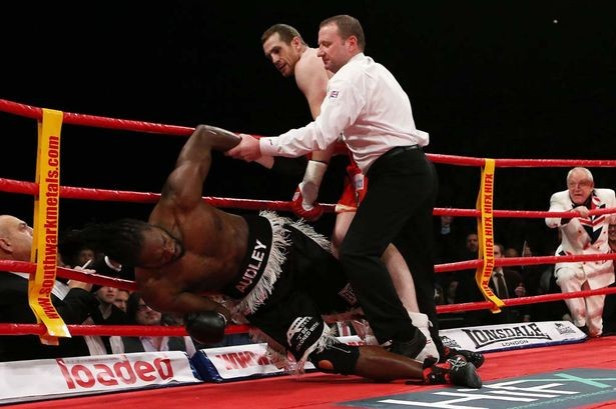 It is not the fault of Vitali and Wladimir that there has been no worthy challenger. They are meticulous in there destruction and rarely take chances as they wrack up title defences.
The days of brash, charismatic, and ultimately exciting heavyweights appears to have been long forgotten. That is why it was a breath of fresh air to witness Price cement his position as the man who can challenge the dominance of the Ukrainian brothers.
Sitting at ringside in the Echo Arena there was a sense of anticipation. Entering the ring to the Liverpool anthem of 'You'll Never Walk Alone', Price was focused and determined, while Harrison showed fear in his eyes.
The 40-year-old was seeking redemption for his performance against David Haye when he lasted three rounds and was widely criticised for failing to land a single punch.
Against Price he landed a glancing blow before being rocked by a single right hand. The Liverpudlian sensed blood and would soon deliver claret from the face of the challenger as another huge right broke Harrison's nose in two places and knocked him out cold before he even hit the canvas.
It was a blistering display from a fighter who has now won 12 of his 14 fights by way of stoppage. His last six fights have lasted a combined total of just 12 rounds as Price displays a power which is seemingly unrivalled in the heavyweight division.
Price stands at 6ft 8" and uses his 82" reach to maximum effect. Like the Klitschkos he can box behind the jab, but unlike the often robotic movements of the champions, he moves serenely around the ring and has demonstrated a ruthless streak when hurting an opponent.
Immediately after the fight he was called out by Tyson Fury; another giant British fighter who can boast an unbeaten record and a No.4 ranking by the WBC. His foul-mouthed rant was cut short by channel 5, but he helped create interest in the heavyweight division.
The two have exchanged views over Twitter, while Price's promoter Frank Maloney offered Fury £500,000 to fight the Olympic bronze medallist.
Yet, Fury's promoter Mick Hennessey believes that there are bigger fish to fry before fighting Price.
"I think Tyson could be a world champion by next summer. The Price fight, when it happens, Tyson will take him out. It would be better if it was for a world title but we've got to see Price get hit on the whiskers and see how he reacts."
"Tyson put David Price on his backside when he was a 17-year-old novice with a handful of fights. David Price was much older and a Commonwealth Games gold medallist whereas Tyson was, by his own admission, a fat, out-of-condition fighter."
Fury could have faced Price earlier this year had he not decided to vacate his British and Commonwealth titles, now it appears as though the clash could finally once the fighters are at world level.
The heavyweight division is crying out for a new champion to both excite and entertain the loyal fans. Price would well be the man to deliver.