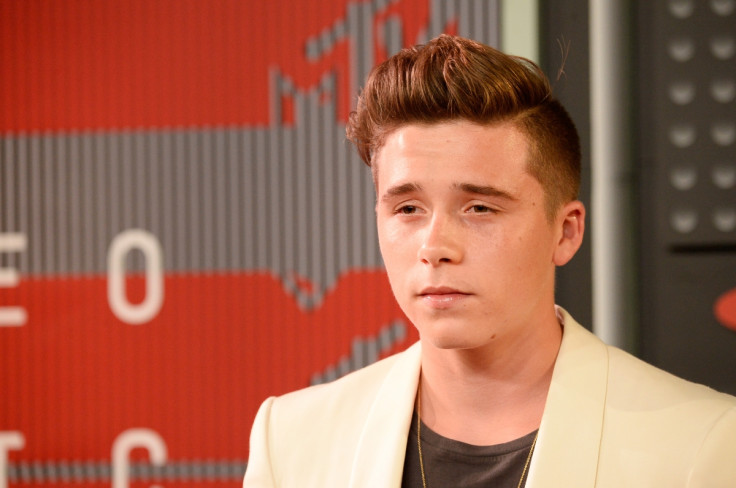 Brooklyn Beckham turned 18 on 4 March and his parents David and Victoria took the opportunity to share some cute baby photos of their eldest son. The legendary England striker took to social media and posted a cute story of when Brooklyn was born.
David posted the throwback photo of him holding Brooklyn moments after his birth and wrote, "So on this day 18 years ago this little man came into our lives.... To say we felt blessed is an understatement ... From day one he never slept through the night the only way he would fall asleep is when I took him out in the car and it had to be BoyZone on the radio and he would drop right off...."
The proud father continued, "Thank fully he now sleeps the whole night without needing a song ... Brooklyn has gone from this beautiful baby boy to become this handsome , polite and driven young man .. I'm proud that he lived through my career with me and I'm even prouder about the person that he has become ... Happy birthday Bust you can now officially take dad for a drink down the pub X ❤ @brooklynbeckham@victoriabeckham."
He shared another black-and-white photo of his now 18-year-old boy and wrote, "Ok one last picture of the day.... To my best friend and my big boy Happy Birthday I'm proud of you... Love you Bust ❤ @brooklynbeckham@victoriabeckham "
Mother Victoria was not far behind as she too showered her son with love and shared multiple family images. "I can't believe our baby is 18 today. We are all so proud and love u so much @brooklynbeckhamx Happy Birthday Buster x Lots and lots of love x," she captioned one of the photos.
Brooklyn himself got in the mix and shared a photo while sipping on some beer to ring in his big day.
Meanwhile, the 41-year-old former Manchester United star appeared on the special 75th anniversary edition of the Radio 4 show Desert Island Discs and spoke about his family. "Do we stay together because it is a brand? Of course not. We stay together because we love each other and because we have four amazing children," David said, while speaking of his wife and children.
"We are a strong family unit. We have got strong parents too and they taught us the right values. Of course you make mistakes and we all know that marriage is difficult at times. It is about working through it. We have come up against tough times. But we know each other better than anyone else knows us. And we talk," he added.
David and Victoria have been married for 19 years and have four children together – Brooklyn, Harper Seven, Romeo James, and Cruz 11.