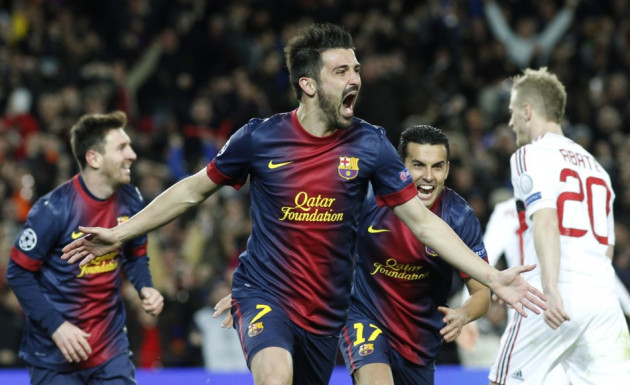 If Arsene Wenger built himself a reputation for being a transfer magician during his early days in English football, then those same rabbits the Frenchman regularly unveiled from his vast top hat have become few and far between in recent years.
With Champions League football having become a luxury, an albeit regular one under Wenger, and league title jaunts a thing of the past the Gunners are hardly in a position to dismiss the advances of one of Europe's most potent forwards. But in David Villa, the 31 year old Spain and Barcelona striker who has completed a full 90 minutes just seven times this season, Arsenal will abandon plans to sign the forward in order to pursue Fiorentina's Stevan Jovetic.
Despite Villa's concerning injury history, Arsenal's striker shortage puts them in no position to turn down the advances of a player who has scored 16 goals this season; only Olivier Giroud for the north Londoners has more this term.
In more likely news, Sunderland will launch a bid to sign Danny Rose on a permanent basis from Tottenham Hotspur after an impressive loan spell at the Stadium of Light. The former England Under-21 international is one of the few genuinely impressive defensive left-backs who would sooner see his side keep clean sheets that improve his assists stats. Oh and he doesn't take penalties either. Spurs need a left-back like Darts needs Phil Taylor, but expect the two parties to go their separate ways.
Away from the transfer window, Qatari telecom company Ooredoo are set to seal a sponsorship deal with Liverpool which could see Anfield renamed in a story which will shake the core of football traditionalists (who are also conveniently on Twitter) across the country, before everyone realises what modern day football is all about.
Soon enough, companies are going to see right through stadium naming rights deals, which fans and the media dismisses as corporate lingo. Exposure from television coverage appears to be the extent of their gain from this arrangement, so fans should embrace then change, even if on this occasion, the name sounds like a player Rafa Benitez would sign.