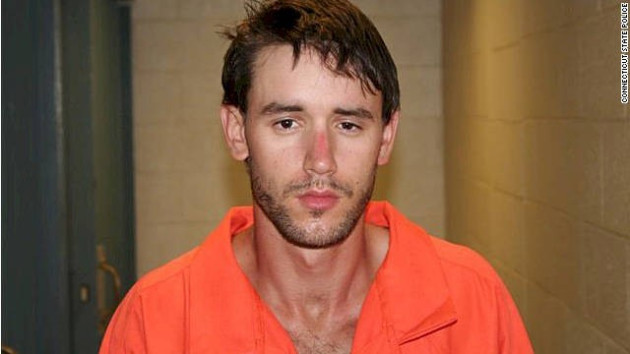 A man on death row for a triple murder has considered asking to be executed.
Joshua Komisarjevsky was given the death sentence after being found guilty of his part in a triple murder in 2007 that claimed the lives of a mother and her two children.
He awaits his execution on death row at the Northern Correctional institution in Connecticut, a state in which only one person has been put to death in the last 50 years.
"I don't think I'll be executed against my will," Komisarjevsky, 31, said. "I think if I volunteer, the state will execute me.
"I guess my reaction is not the reaction society expects," he adds in comments that shed light on the psychological effects of solitary confinement and isolation, with the only possible escape being death.
Komisarjevsky faces execution with his accomplice Steven Hayes, for the murders of Jennifer Hawke-Petit and her two daughters.
The men had initially planned just to rob the women at their house in Cheshire, but events escalated out of control. Hayes raped and murdered Jennifer while Komisarjevsky sexually assaulted her daughters Michaela, 11, and Hayler, 17.
The men then doused the building in petrol and set it alight. The girls, who were tied to their beds, died of smoke inhalation. Jennifer's husband William was tied up in the basement throughout. He managed to roll and crawl out of the building. He said the event was "our personal holocaust caused by two who are completely evil and actually do not comprehend what they have done."
Komisarjevsky told Associated Press that he suffers no nightmares of the attack and simply tries not to let himself think of it.
He spends his days in solitary confinement watching television, drawing and reading. He also responds to letters of support and hate mail. He gets two hours a day of recreation time.
"Some days you're just overwhelmed by the isolation and the difficulties in communicating with loved ones, dealing with your own crisis of conscience," he said.
He said he would think about volunteering for execution: "I have my days. I think everyone on death row has their days. Some days you'd consider it. Some days you don't."
In April Connecticut Governor Daniel Malloy signed a new law ending the state's death penalty for future crimes. The changes do not affect those already on death row, meaning Hayes and Komisarjevsky could still face execution.