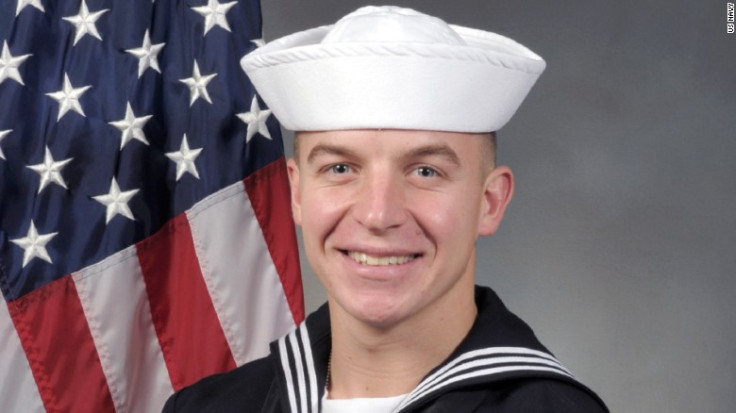 The drowning death of a young sailor during an elite Navy Seal training exercises in San Diego has been ruled a homicide, potentially laying the groundwork for criminal charges.
An autopsy report by the San Diego County medical examiner's office criticised Navy instructors and "others" for "excessive" actions that "directly contributed to the death" of 21-year-old sailor James Derek Lovelace.
A surveillance video of the May training exercise shows Lovelace struggling in a swimming pool during training. Instead of helping him, instructors and others repeatedly dunked Lovelace under the water, according to the medical examiner's report.
In the training exercise, Lovelace and other trainees had to tread water while wearing their fatigues, boots and masks filled with water as part of the rigorous Combat Swimmer Orientation. The exercise is used to determine the students' competency and confidence in the water.
During the exercise, instructors usually create adverse conditions by splashing water, making waves and yelling, but they are advised not to dunk or pull students under water, according to the report. In this case, as Lovelace struggles he is initially splashed with water by instructors.
Then, according to the autopsy report: "An instructor in the water approaches the decedent and apparently dunks the decedent under water. Over the course of the next approximately five minutes, the instructor follows the decedent around the pool, continually splashing him with water [and] the decedent is observed o go under the water multiple times.
"At one point, another student ... appears to attempt to assist the decedent in keeping his head above water. The instructor appears to again dunk the decedent and continues to follow him. The instructor also appears to pull the decedent partially up and out of the water and then push him back."
Lovelace was not considered a strong swimmer, according to the medical report. After about 25 minutes his face was pale and his lips were blue, said the report. Discoloured water came from Lovelace's mouth and he was mumbling. He was taken to a nearby hospital, where he died an hour later.
The Naval Criminal Investigative Service (NCIS) is continuing to investigate. The Navy took "immediate actions" to re-assess its safety and training procedures after Lovelace's death, said a spokesman. One training instructor was temporarily reassigned following the death, CNN reported.
"Although the manner of death could be considered by some as an accident... it is our opinion that the actions, and inactions, of the instructors and other individuals involved were excessive and directly contributed to the death, and the manner of death is best classified as homicide," a San Diego County pathologist wrote in the autopsy report.
A homicide ruling means that another person has caused a death, but it does not necessarily mean criminal action was involved.