Rescue workers are searching for survivors among the rubble of towns and villages in central Italy in the aftermath of a devastating earthquake believed to have claimed at least 37 lives.
The 6.2 magnitude earthquake struck a mountainous region at around 3:30am local time, setting off a sequence of quakes, including a 5.5 magnitude an hour later according to USGS. The towns of Accumoli, Amatrice, Posta and Arquata del Tronto were worst effected. There have been reports of tremors as many as 105 miles from the epicentre in Rome.
"Three quarters of the town is not there anymore," the mayor of Accumoli, Stefano Petrucci, told Associated Press. "The aim now is to save as many lives as possible. There are voices under the rubble, we have to save the people there," he added.
As the sun rose Petrucci explained the voices had gone quiet. "Now that daylight has come, we see that the situation is even more dreadful than we feared with buildings collapsed, people trapped under the rubble and no sound of life," he told told Associated Press.
Italian state broadcaster RAI reported a family of four had been discovered dead, buried beneath their collapsed home in Accumoli. Italian police have said four more bodies have been pulled from collapsed buildings, two each from Pescara del Tronto and the small town of Amatrice.
In Amatrice the wounded from the quake are being tended to in the streets. Structural damage to the town's hospital has made it unsafe for patients.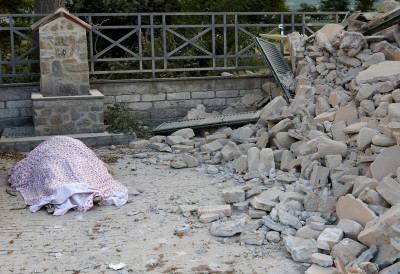 The earthquake hit towns across the regions of Umbria, Lazio and Marche. However, the closest city to the epicentre of the earthquake, the historic centre of Norcia, was spared the worst of the damage.
Mayor Nicola Alemanno said no deaths had been reported in Norcia. "The anti-seismic structures of the town have held. There is damage to the historic heritage and buildings, but we do not have any serious injuries."
The last major earthquake in Italy struck the central city of L'Aquila in 2009, killing more than 300 people. The Mediterranean nation sits on two seismic fault lines making it one of the most active areas in Europe for earthquakes.