Blondie singer Debbie Harry has addressed the controversial political comments which Madonna made at the Women's March On Washington in February, branding her fellow pop star an "a*****e".
Just a day after Donald Trump was inaugurated the new president of the United States, Madonna, 58, sparked outrage after admitting she had considered "blowing up the White House". Although the world of music have ferociously vocalised their political stance before and after the recent US presidential election, Harry, 71, has maintained a public silence until now.
In a candid interview with The Sunday Times Magazine, Harry references Madonna's comments, stating: "I don't feel like I have to be an a*****e and say stupid things like 'bomb the White House', but I am speaking out on politics now. I'm sleepless since Trump's election. There's gotta be a resistance of some sort – a protest. Music is about to regain its edge."
Shortly after the Women's March, it was falsely reported that the Secret Service were investigating Madonna's remarks but the singer denied attempts to incite violence. In an Instagram post, the 58-year-old stated she is "not a violent person" while claiming "one phrase [was] taken wildly out of context".
The Vogue hitmaker added: "I spoke in metaphor and I shared two ways of looking at things — one was to be hopeful, and one was to feel anger and outrage, which I have personally felt.However, I know that acting out of anger doesn't solve anything. And the only way to change things for the better is to do it with love. It was truly an honour to be part of an audience chanting 'we choose love'."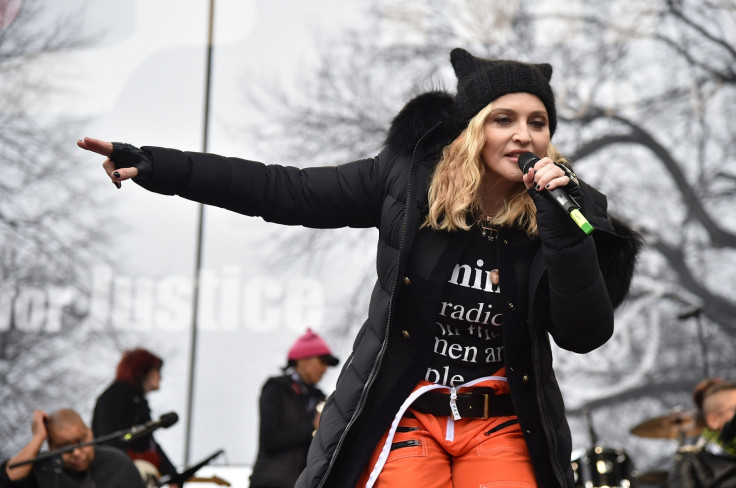 Harry is preparing for the release of Blondie's new album Pollinator, expected to arrive in May, as well as a performance at BST Hyde Park supporting Phil Collins. Reflecting on her sexualised stage presence during Blondie's heyday, Harry said: "I always used to tear my clothes off. Would I be naked onstage all the time now? Probably. It might horrify everyone, but. I wanna... do flips and bang around on my knees, but I know I might have a hard time getting back up. It's such a drag."