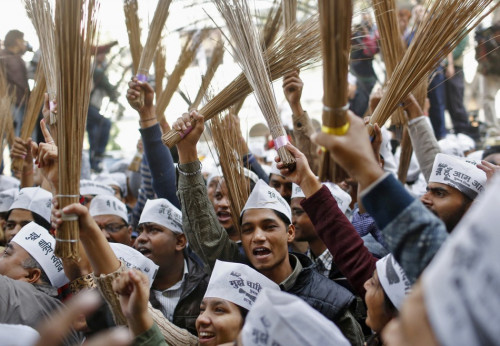 India's deepening political divide and uncertainties about the result of the upcoming general elections are weakening its economic outlook.
Opinion polls predict that neither the ruling Congress Party's coalition nor that of the opposition Bharatiya Janata Party (BJP) will win a majority in the upcoming general election. In the 545-member parliament, Congress and BJP account for about 58% seats, with more than 30 regional parties representing the rest.
In addition, the emergence of the Aam Aadmi Party that is opposing both BJP and Congress in the country's capital is expected to deepen the political disarray in India. The 14-month-old organisation founded by Arvind Kejriwal, a former tax inspector, came into limelight after it formed government in the state of Delhi, replacing Congress.
If Aam Aadmi (common man) wins as many as 20 seats in important states like Delhi, Haryana and Uttar Pradesh, that will diminish the possibility of a stable government in the federal country.
Economic Woes
Without a stable government, the country that is suffering from a decade-low economic growth rate and Asia's fastest inflation rate will face a tougher time approving policy changes, according to Bloomberg.
Policy changes including more foreign direct investment and privatisation of state-controlled companies are required to avoid a credit rating downgrade for Asia's third-largest economy.
Credit rating agency Moody's earlier blamed the "disturbing anti-business tinge" of the government.
"India's growth rate has been steadily slowing for the past two years, and it is not yet clear whether the bottom has been reached," Moody's said in a statement.
"Red tape remains the biggest obstacle to investment. Yet it is too entrenched at all levels of bureaucracy to tackle in an expedient way."
S&P and Fitch have a negative outlook on the economy. S&P had warned that it would downgrade India's rating to junk grade if the government fails to undertake reforms and check widening fiscal and current account deficit.
In general, emerging economies including India are facing a number of critical challenges in 2014.
The tapering of a gigantic monetary stimulus by the US Federal Reserve would reduce money inflow into these markets. Countries like India largely resort to foreign capital inflow to make up for their current account deficits.
India's rupee is only slowly recovering from a huge slide against the US dollar last year. The currency has fallen 13% against the dollar over the past year, the third-most in Asia after Japan's yen and Indonesia's rupiah.