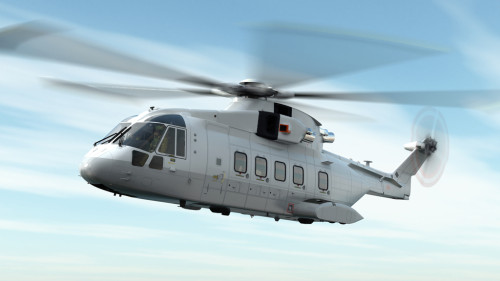 India is seeking to recover hundreds of millions of euros from helicopter maker AgustaWestland after scrapping a major contract awarded to the UK firm.
Defence ministry officials said the Indian government is seeking about €270m over the scrapped helicopter deal worth €560m, Reuters reports.
Earlier this month, India cancelled the contract for 12 AW101 choppers after allegations that the British firm had bribed officials to win the deal. The government noted that the company had breached a "pre-contract integrity pact".
India's Defence Ministry had said that India will not lose any money in the deal and is trying to get back the payment that has already been made.
The termination of the contract comes as Giuseppe Orsi, former head of AgustaWestland's Italian parent firm, Finmeccanica, is undergoing trial in Italy on fraud and corruption charges.
Orsi, who was the chief of AgustaWestland at the time the India deal was signed, was accused of paying bribes to secure the Indian contract. Orsi denied the charges and the trial over the case is ongoing in Italy.
AgustaWestland received 43% of the deal's value in bank guarantees that will be reclaimed after the helicopters were delivered, the defence officials told Reuters. The company also put up a deposit worth 5% of the contract value, bringing the total value of the guarantees to about €270m.
"The government now wants to get back all our money by invoking the bank guarantee," the news agency quoted one defence ministry official as saying.
The order for 12 AW101 choppers was placed by India in 2010 for travel purposes of senior officials such as the prime minister and other high-profile politicians. The company has so far delivered three helicopters and the remaining nine will not be taken by the country as the deal was terminated.
Out of the nine helicopters remaining, three have been completed but not yet delivered and the remaining six are close to completion at the company's factory in Somerset.
Growing Worries for AgustaWestland
AgustaWestland, which is already in trouble with reduced orders, is looking to mend fences with India, the world's biggest arms buyer.
The company said earlier that it would "pursue all remedies including legal options" to protect its interests, according to the Press Trust of India.
The contract loss is expected to result in massive job cuts at AgustaWestland's Yeovil factory. Finmeccanica earlier warned that if the deal with New Delhi cannot be salvaged it would be forced to take up a "mitigation plan" that includes "a reduction to the workforce".
Meanwhile, AgustaWestland noted any potential job losses would be spread across all its European manufacturing sites.