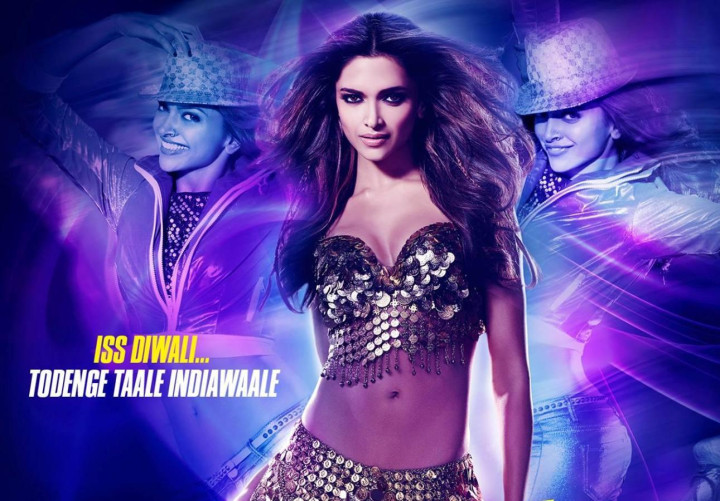 Happy New Year star Deepika Padukone's 'cleavage controversy' is far from over. Following her open letter to Times of India over the issue, the leading publication has now openly gone aggressive in defending their position.
Today's Bombay Times front page has taken a stand where they labelled the Happy New Year actress a 'calendar girl' and questioned her moral values and judgement on going uptight over her cleavage being shown on their website.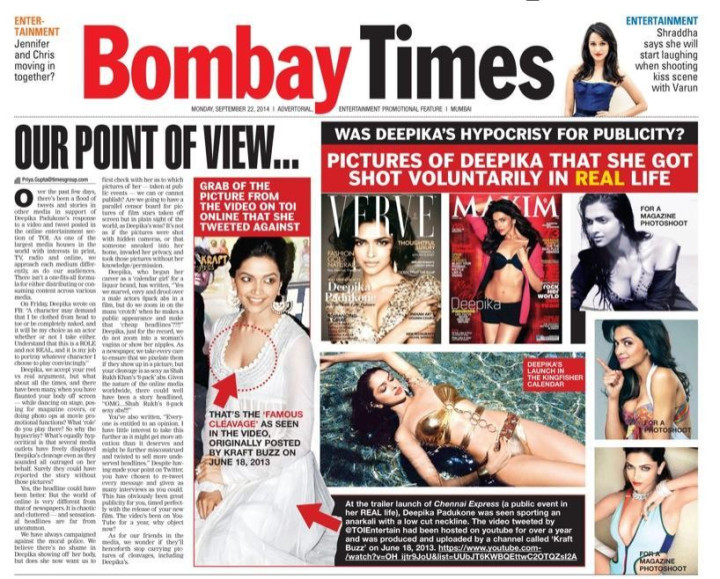 After slamming TOI on Twitter and writing an open letter to them through her Facebook account, the actress is now under attack by India's most powerful media house.
Many believe that this could just be a publicity stunt for the actress and for her newly released film Finding Fanny. Meanwhile, promotions for her next big movie with Shahrukh Khan, Happy New Year, are on in full swing.
However, several fans and users are tweeting in support of the actress. Check out some of the tweets below:
TOI please note that you lack shame.Dont u know how to respect a woman?Oh yes,you morons want to prove yourself right. #DeepikaPadukone

— Riddhi Dhebri (@RiddhiDhebri) September 22, 2014
i thought @TOIIndiaNews fought only with business houses! now its with #deepikapadukone ! where is this one headed? sad & ironic though! — Shivnath Thukral (@shivithukral) September 22, 2014
Heights of being defensive! This is low even for Times of India standards. #TOI #deepikapadukone http://t.co/nilhHW7mbX

— Purnima Joshi (@purnima30) September 22, 2014
Wait.. one can only admire TOI for trying the "Your back stabbed my knife. YOU apologize" routine, no? Idiots. #deepikapadukone — Vidya (@_VidyaKrishnan) September 22, 2014
Instead of writing such a big article, TOI should have given 1 line response to Deepika Padukone - "Yaar we are TOI, What did you expect"

— Gappistan Radio (@GappistanRadio) September 22, 2014
You know after Deepika Padukone fiasco TOI would have learn something but guess they haven't. Their latest idiocy... pic.twitter.com/C0CUTzRW2u — Ro Ro (@desijourno) September 19, 2014