Following on from the release of the show's first full trailer earlier this week, Netflix has unveiled a new poster and images from Marvel television series The Defenders.
You might not be able to see the titular gang's faces, but let's just say, the artwork is toe-tally awesome anyway as it fights the more gritty nature of the shows perfectly.
The Defenders brings together street-level heroes Jessica Jones (Krysten Ritter), Daredevil (Charlie Cox), Iron Fist (Danny Rand) and Luke Cage (Mike Colter) as they try to fight crime in New York despite their disagreements on how such a goal should be achieved. But when a particularly ominous threat rears its head – in the form of Oscar-nominated Sigourney Weaver, no less – the self-confessed misfits must find a way to put aside their personal burdens and save the city.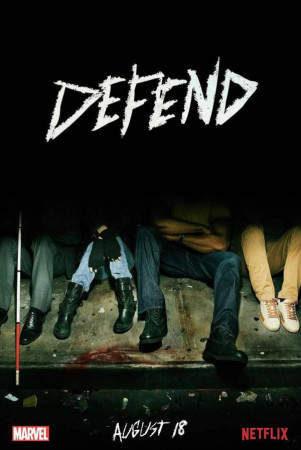 While super-suits are usually synonymous with comic book adaptations, the four individuals that The Defenders focuses on have never been ones for dressing up for the occasion. Danny Rand aka Iron Fist, Cage and Jones have never even changed out of their respective hoodies and jeans to kick some butt, viewers didn't see Matt Murdock don the Daredevil cowl under his standalone show's season season.
The stills prove you don't need a costume to actually be super, just as the poster shows that even in their regular clothes, the characters are instantly recognisable. Not only that but the images also offer up glimpses at Rosario Dawson's Claire Temple, Scott Glenn's Stick and Weaver's villain Alexandra.
Aside from the titular leads, other characters expected to show up in The Defenders who have already been seen across Netflix's Marvel TV universe include Elektra (Elodie Yung), Trish Walker (Rachael Taylor) and Foggy Nelson (Elden Henson). Misty Knight (Simone Missick), Colleen Wing (Jessica Henwick) and Jeri Hogarth (Carrie-Anne Moss) will also appear.
All eight episodes of The Defenders will be available to stream and download on 18 August. Which gives you just enough time to catch up on each of the main character's shows before it starts...