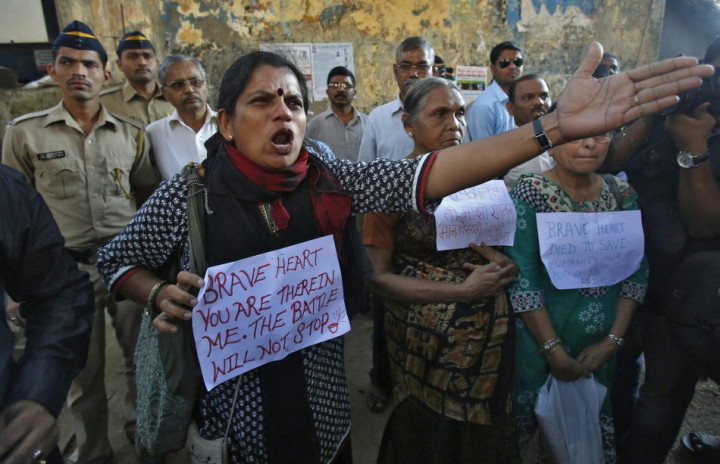 The lawyer of three men accused of gang raping and murdering a 23-year-old woman on a Delhi bus has claimed she and her male friend are to blame for the incident.
Supreme Court lawyer Manohar Lal Sharma, 56, said that, as far as he knows, no "respected lady" has ever been raped, claiming the unmarried couple shouldn't have been out at night.
"Until today I have not seen a single incident or example of rape with a respected lady," Sharma told Bloomberg. "Even an underworld don would not like to touch a girl with respect."
Representing three of the six attackers - Mukesh Singh, Akshay Thakur and Ram Singh - Sharma also blamed Awindra Pandey, the woman's friend, for failing to protect her.
"The man has broken the faith of the woman," Sharma told Bloomberg. "If a man fails to protect the woman, or she has a single doubt about his failure to protect her, the woman will never go with that man."
The woman and Pandey, who said they were just friends, were on the way back from a cinema when the attackers lured them onto a bus in December.
When the rapists' intentions became clear, they tried to defend themselves but where overpowered and beaten with an iron rod.
Sharma's clients are accused of abduction, gang rape and murder and have pleaded not guilty. If convicted they face the death penalty.
Sharma volunteered to represent the three men, who had reportedly been struggling to find a lawyer willing to defend them.
Another two suspects - Pawan Gupta and Vinay Sharma - are said to have offered to cooperate with the investigation in order to get lighter sentences.
The sixth attacker claims to be 17. If this claim is verified, he will be tried separately in a youth court, facing a maximum sentence of three years in jail.
The lawyers' word came after outrage caused by similar statements made by an Indian spiritual guru earlier this week.
Self-styled guru Asaram Bapu, 72, said the physiotherapy student was "as guilty as her rapists" for she "should have called the culprits brothers and begged before them to stop" in order to save her "dignity and life".