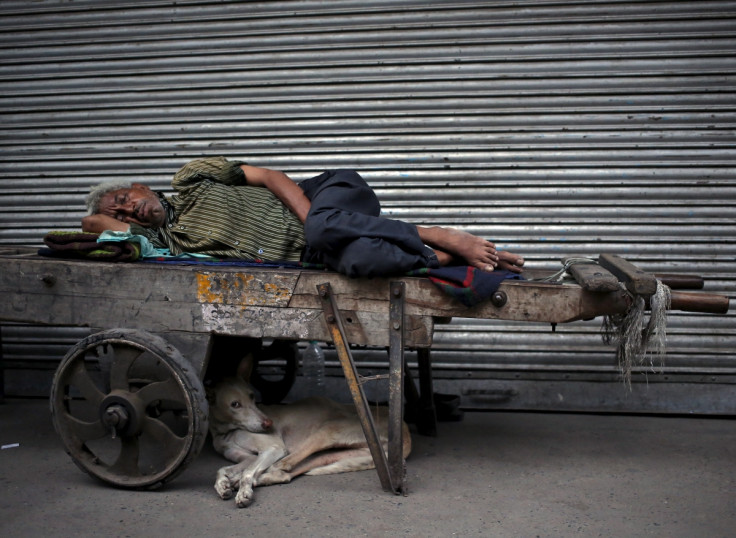 A serial dog killer is on the prowl in the Indian capital New Delhi, randomly stabbing puppies and stray dogs. Though the exact numbers are unclear, several cases of dog stabbing have been reported including an incident in which the attacker was caught on a CCTV camera.
The six-minute footage, released by animal rights NGO Fauna Police, shows the killer stabbing a one-month-old puppy and critically injuring four other dogs. A police officer has confirmed the footage includes close-up shots of the attacker, minutes after he went on the rampage.
Fauna Police and Humane Society International have announced a reward of 100,000 Indian rupees (£1,040) for anyone who provides key information regarding the suspect. The Delhi Police have also mounted an investigation into the matter.
"There was a lot of blood... a dead puppy was lying there. Some of the other dogs had injury marks from a sharp weapon. We rushed the injured dogs to a clinic," Gaurav Vadhvan, a local shopkeeper who was among the first people to learn about the killings in the locality, told the Indian Express newspaper.
"We have no information about any previous incident, but we are looking into all aspects that could help us establish the identity of the accused," said Deputy Commissioner of Police (South) Prem Nath.
Local rights groups have said dozens of dogs have disappeared in recent days and many have suffered stab wounds in southern Delhi. The injured dogs have been undergoing treatment. Residents have reacted with horror and revulsion to the grisly act.
"We have provided all the information we had to the police but they have shown an indifferent approach in handling the case. Initially, we were not even given the CCTV footage. We managed to get a photograph of the killer from a CCTV installed at one of the shops and gave it to them. Could they not have spoken to the shopkeepers and tried to trace the killer? We somehow managed to get the CCTV and uploaded it on YouTube," Abinav, a Fauna Police representative was quoted as saying.
Animal abuse has been in the spotlight in recent weeks after a police horse named Shaktiman was allegedly attacked by a worker belonging to the Bharatiya Janata Party (BJP), the federal ruling party, during a protest. The horse sustained serious injuries and its leg had to be amputated sparking outrage.
Warning: This video contains a violent act against animals which some viewers may find disturbing.