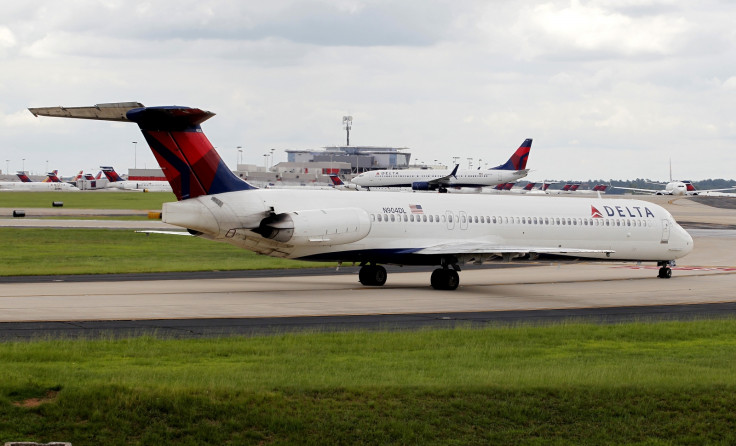 Delta Air Lines has banned for life an unruly passenger following a pro-Trump outburst aimed at Clinton supporters on his Pennsylvania-bound flight, the company's CEO announced on Monday (28 November). The unnamed man can be seen shouting praise for President-elect Donald Trump while insulting supporters of Democratic nominee Hillary Clinton.
"We got some Hillary b*****s on here?" the man asks before clapping and yelling Trump's name. "Donald Trump baby!" he yells, as his fellow passengers attempt to ignore him. "Donald Trump is y'alls president. Every goddamn one of you. If you don't like it, too bad."
The 45-second video was posted on Facebook by passenger Emma Baum, who was initially sitting next to the man. The 21-year-old, who lives in Belize, told The Morning Call that she first noticed the man as she waited to board the flight. The man reportedly shouted Trump would "make America great again" several times in the airport terminal
The two were seated next to each other and he mentioned his support for the president-elect again. Baum said she eventually switched seats but asked the man about the election as she had been out of the country. The man reportedly stood up to talk to her and gave her the go-ahead to film him.
Baum said the man was removed from the flight by a flight attendant but was later allowed to return. "When he came back in, he said, 'This is what I get for being a patriot," Baum told the Morning Call. Once they landed, Baum said she reported the man's behaviour to airport security.
The company said on Saturday (26 November) it should have removed the man from the flight.
"We are sorry to our customers who experienced this disruption," Delta wrote on its website. "We have followed up with the teams involved and all agree that this customer should not have been allowed to continue on the flight.
"Our responsibility for ensuring all customers feel safe and comfortable with Delta includes requiring civil behaviour from everyone. The behaviour we see in this video does not square with our training or culture and follow up will continue so we can better ensure our employees will know they will be fully supported to make the right decisions when these issues arise."
CEO Edward Bastian released an internal memo saying the company would refund the tickets of the passengers aboard the 22 November flight from Atlanta to Allentown. According to The Guardian, Bastian confirmed that the crew questioned the man and made the best decision they could based on the information they had.
"However, if our colleagues had witnessed first-hand what was shown in the video, there is no question they would have removed him from the aircraft," he wrote. "He will never again be allowed on a Delta plane."