An internal memo reportedly hacked from the personal computer of Nancy Pelosi, the top Democrat in the US House of Representatives, shows how officials were briefed on how to respond to the Black Lives Matter (BLM) movement – including "tactics" on how to answer questions by activists.
The document, reportedly authored in November last year by a staffer called Troy Perry, states that Democratic Party candidates and members should never use the phrases "all lives matter" nor mention "black on black crime" as they are "viewed as red herring attacks" and "will garner additional media scrutiny and only anger BLM activists."
The Black Lives Matter movement was formed in 2013 following the death of Trayvon Martin and has been at the forefront of alleged US police brutality ever since – documenting and protesting the slew of killings including, most recently, those of Alton Sterling and Philando Castile.
The BLM-centric document was leaked online by Guccifer 2.0, the self-proclaimed hacker claiming to be responsible for infiltrating the Democratic National Committee (DNC) and the Democratic Congressional Campaign Committee (DCCC).
Many cybersecurity experts believe the persona is maintained by Russian intelligence to manage a disinformation campaign with the intention of influencing the upcoming 8 November election. Kremlin officials have denied the accusations.
"Presidential candidates have struggled to respond to tactics of the Black Lives Matter movement," the memo continues. "While there has been little engagement with House candidates, candidates and campaign staff should be prepared. This document should not be emailed or handed to anyone outside of the building. Please only give campaign staff these best practices in meetings or over the phone."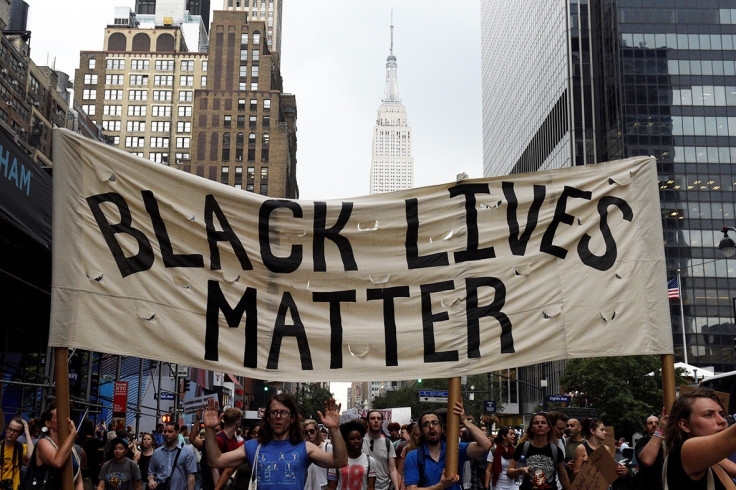 Under a section marked "tactics", Perry instructs Democratic Party officials to "meet with local activists". He wrote: "If approached by BLM activists, campaign staff should offer to meet with local activists. Invited BLM attendees should be limited. Please aim for personal or small group meetings." He advised to "listen to their concerns" but "don't offer support for concrete policy positions."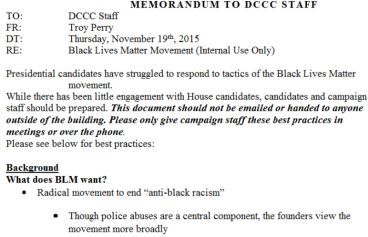 According to his public Twitter profile, Troy Perry is a former DCCC staffer who now works on the election campaign of Democratic nominee Hillary Clinton.
"BLM needs partners to achieve their agenda and they want to be a part of the conversation," Perry wrote in the memo last November. "However, BLM activists don't want their movement co-opted by the Democrat Party. They are leary of politicians who hijack their message to win campaigns."
Under the title "What to say to media", Perry noted that officials should aim to "rebuild the relationship" between police and community and "explore reforms" to ensure officers are properly trained and don't infringe on citizens' rights.
The mysterious Guccifer 2.0 figure also released nine other documents in total – all reportedly compromised from the PC of Pelosi. Other titles included: Recent Immigration Reform Proposals, 2016 NP Proposed Contributions, ISIS (talking points) and Framework One Pager Benghazi.
A statement posted alongside the latest release said: "Hi everyone. As you see I've been gradually posting DCCC docs on different states. But besides that I have a folder from the Nancy Pelosi's PC and I'd like to share some docs from it with you. They are related to immigration, Hispanics, BLM, Islam and other issues. So here they are."
Due to the documents featuring potentially sensitive financial data, IBTimes UK has not linked directly to the release.
Guccifer 2.0 did not respond to a request for comment.
UPDATE: The Black Lives Matter campaign has released a statement on its Facebook page.
It stated: "We are disappointed at the DCCC's placating response to our demand to value all Black life. Black communities deserve to be heard, not handled. People are dying.
"Whether Republican, Democrat or otherwise, our elected officials have an ethical and democratic responsibility to make legislation that reflects the needs of their constituents. That includes Black people facing life-threatening challenges because of racist, failed policies.
"We demand, and are fighting every day for, a radical transformation of American democracy where all Black lives are valued. We expect that our elected officials will stop pacifying and take us seriously."
This article was updated on 23:05 (31 August) to add in a comment from Black Lives Matter.