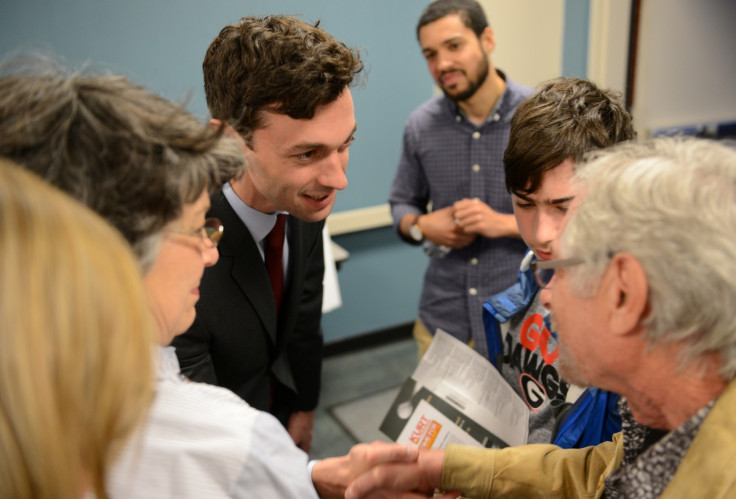 Democrats are hoping to turn the congressional seat for Georgia's sixth district blue during the special election on Tuesday (18 April). Democratic candidate Jon Ossoff has raised nearly $8.3m in his bid to claim the seat previously held by Republican Tom Price in a race that could lead to a runoff.
Ossoff's bid is offering Democrats the first real opportunity to claim victory since losing control of both houses of Congress and the White House. President Donald Trump's poor job approval ratings nationally have galvanized Democratic voters and could potentially lead the sixth district to turn blue.
Republicans have maintained control of the sixth district since 1979, The Guardian noted, but recent polls show that may not be the case much longer. Two polls released in the days leading up to the special election suggests a possibility of a runoff between Ossoff and one of his Republican opponents, Karen Handel.
A WSB-TV poll released Friday (14 April) places Ossoff firmly in the lead with 45.3% of the vote and Handel in second with 17.4%. Three other Republicans, Bob Gray, Dan Moody and Judson Hill all polled less than 10%.
Another poll by OpinionSavvy shows Ossoff equally ahead. The investigative filmmaker leads with 42%, while Handel marks at 21%. Despite his 20+ lead in both polls, Ossoff lacks the majority mark he needs to achieve on Tuesday to avoid a 20 June runoff, the Atlanta Journal-Constitution reported.
The 18-candidate race also makes projecting an accurate turnout model for the election especially difficult, Mark Rountree of Lanmark Communications, which conducted the WSB poll, said. "This isn't a normal election, a normal primary or a normal special election. And there's more money being spent on this race than any Congressional special election I've ever seen," Rountree said.
Rountree is right. According to The Guardian, Democrats running for the 6th District typically hope to raise $10,000 for their campaign. However, first-time candidate Ossoff has far surpassed that with his $8.3m. The Atlanta Journal-Constitution noted that of the $8,320,693 raised between 21 December and 29 March, 95% were from out-of-state donors.
Ossoff, who worked as a congressional aide for Congressman Hank Johnson for five years before pursuing journalism, said he was "laser-focused on local economic issues". He said he hopes Atlanta can become an "economic powerhouse that is the envy of the rest of the country".
"Folks appreciate my focus on local economic issues, on bringing jobs investment and greater prosperity to the area, on college affordability and increasing opportunity at home," he told The Guardian.
His increasing popularity has led Republicans to release attack ads questioning his preparedness for the job. In ads released by GOP Super Pac, the Congressional Leadership Fund (CLF), footage of Ossoff dressed as Han Solo is used to portray the 30-year-old as "not ready" for office. Ossoff said he does not mind the comparison.
The attack ads have not stopped there. The CLF has run right different ads against Ossoff, targeting his out-of-state and a documentary he made for news channel Al-Jazeera. State Republicans have also received help from President Trump, who posted a sponsored ad to Facebook calling for donations.
"It's a tough fight and they're hitting me hard and I'm honoured that they are because it proves how winnable this race is," Ossoff said. "Georgia likes an underdog."