Denmark: Radio presenter Asger Juhl kills baby rabbit live on air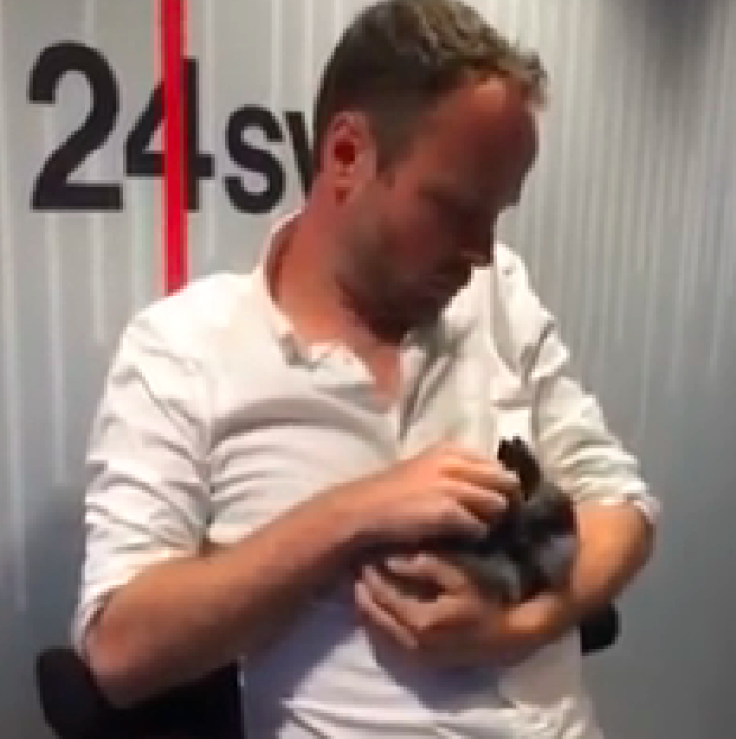 Danish radio presenter draws light on hypocrisy of animal rights' activists who campaign for animal rights yet purchase and eat meat from grocery stores.
Twitter
A radio presenter in Denmark is facing heavy criticism after he killed a rabbit during a live show.
Radio24syv's presenter Asger Juhl, 34, said he wanted to prove the hypocrisy of animal rights activists when he hit nine-week-old rabbit Allan three times with a bicycle pump and wringed his neck.
Juhl who carried out the act while hosting a debate on animal welfare criticised the animal rights activists who host protests against animal cruelty yet purchase and eat meat from grocery stores.
Speaking to Sky News, the station's chief executive, Jorgen Ramskov, said: "We wanted to raise a discussion about why animal welfare is an issue for some animals but not for other animals.
"In Denmark, at least, we have a very industrialised agricultural industry and a lot of these animals in this sector are not basically viewed as animals, they're machines delivering meat to our tables and we don't really care about their animal welfare."
Ramskov pointed towards the discrimination towards certain animals that is prevalent amongst animal rights campaigners.
"The rabbit is something you can eat, but also an animal we care a lot about. Why don't we care for a piglet, why don't we care for a small cow, or lamb?" said Ramskov.
Ramskov said the show's presenter carried out the act after seeking expert advice on how to kill a rabbit instantly such that the animal suffers minimum pain.
The radio also posted a video on their Facebook page of the rabbit meat being cooked in a stew to be eaten by the show hosts.
A message with the video read: "We are too far from the animals, as every day we put in the shopping cart and eat. Therefore, it arouses fierce emotions when we see here on the radio, a rabbit being killed and eaten."
Despite the radio's spokesman defending the act, social media users condemned the killing.
"Consumers generally do not kill animals themselves, but we buy and eat animals, that have lead sad lives. We just don't see it, and don't consider the animals 'cute' as the rabbit," said the radio's spokesman.
"These animals have often endured horrific suffering on their way to our dinner tables. These animals are killed according to the same controlled conditions as our studio rabbit, and without it invoking any strong reactions or calls for boycott.
"We wanted to expose the vast hypocrisy surrounding our relationship with animals. So far we have succeeded. We wanted and want to have a debate about animal welfare - for all animals."
© Copyright IBTimes 2023. All rights reserved.