Dennis Bergkamp will become the latest Arsenal legend to have a statue of himself unveiled outside the Emirates Stadium.
The Dutchman, who scored 87 goals across 11 years in north London, becomes the fourth recipient of the honour, after statues of Thierry Henry, Tony Adams and Herbert Chapman were erected to mark the club's 150<sup>th anniversary in December 2011.
Pictures of the Bergkamp statue, which depict him flying through the air against Newcastle United in 2003, were posted on Twitter on Tuesday evening with the tribute set to be confirmed before the start of the 2013/14 season.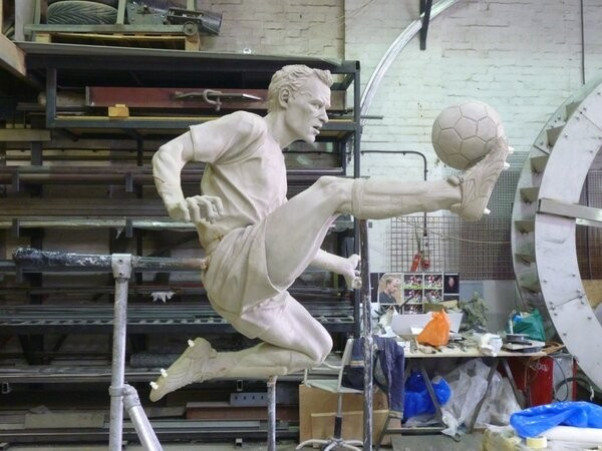 "We're pleased that speculation surrounding a future possible statue at Emirates Stadium is generating interest and will obviously communicate details if and when there is confirmation of any new developments," said an Arsenal spokesman.
Bergkamp was voted 2<sup>nd in a list of fifty of Arsenal's greatest ever players behind Henry and was part of the 'Invincibles' team that went the 2033/04 season unbeaten on their way to the Premier League title.
He claimed three league titles and four FA Cups and won the PFA Players' Player of the Year award in 1997 during 11 years at Arsenal.
During Bergkamp's last season with The Gunners, as part of final salutes to Highbury before their move to the Emirates Stadium, the club organised a day to pay homage to the forward which included home fans wearing Orange t-shirts.
Currently the assistant manager at Ajax, Bergkamp has been heavily linked with succeeding Liam Brady as head of Arsenal's youth development.
While the 43 year old is firmly settled in the Dutch capital, he conceded in 2011 that a return to England in some form would be tempting.
"The plan is to be settled here now I've built my house," he said.
"But there is something that stays with me, something in my body that wants to go back to England one day as part of a coaching staff. That is always in my mind.
"I don't miss specific things but I miss the feeling, which I can't really explain. I haven't sold my house there yet."