A US judge will decide later in the day on Detroit's proposal to emerge from Chapter 9 bankruptcy.
Federal Bankruptcy Judge Steven Rhodes is expected to rule that Detroit's bid to restructure its $18bn (£11.4bn, €14.5bn) in debt and obligations is viable for the coming years and fair to the city's creditors.
Rhodes's decision could see the case being concluded in just under 16 months, AP reported.
Meanwhile, the Detroit Institute of Arts (DIA) has received more than $2m in pledges and gifts from 21 local Japanese businesses, who chipped in to help save the city's art works.
The contributors are members of the Japan Business Society of Detroit, an organisation founded in 1973.
The DIA said in a statement: "...The majority of the money, 75%, will be used for the DIA's commitment to the Grand Bargain, and the other 25% will go toward reinstalling the museum's Japanese collection in a new gallery.
"The gift helps the DIA get closer to its $100m Grand Bargain commitment, currently at about $87m..."
Bargaining Chips
Detroit has leveraged its vacant real estate in settlements with two large creditors.
An agreement with bond insurer Financial Guaranty Insurance (FGIC), which has a $1.1bn exposure from guaranteeing pension debt, included the Joe Louis indoor hockey stadium. FGIC wants to turn it into a housing and retail development anchored by a hotel, Reuters reported.
A separate deal with bond insurer Syncora Guarantee included an extension of its lease on part of the tunnel connecting Detroit to Canada, control of a major parking garage, and options to acquire property near the riverfront.
Both settlements incorporate cash and city-issued notes.
Blight Removal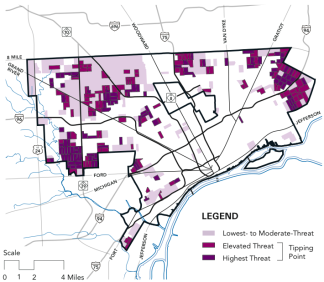 The economically ravaged city is home to over 84,000 wrecked structures and vacant lots, and half of these have to be demolished, a task force convened by the US government said in May.
Clearing Detroit's blight could cost the city nearly $2bn, according to a report by the Detroit Blight Removal Task Force.
However, as of 27 May, Detroit had just "$87.6m immediately available toward the blight removal effort", the document added.
Detroit filed for bankruptcy in July 2013. It followed three California cities, Stockton, Mammoth Lakes and San Bernardino, all of which filed for bankruptcy in 2012.
In 2011, the city of Harrisburg in Pennsylvania tried to file for bankruptcy, but the move was deemed illegal.