The bankrupt city of Detroit contains over 84,000 wrecked structures and vacant lots, and half of these have to be demolished, according to a task force convened by the US government.
Clearing Detroit's blight could cost the city nearly $2bn (£1.2bn, €1.5bn), according to a report by the Detroit Blight Removal Task Force.
However, as of 27 May, Detroit had just "$87.6m immediately available toward the blight removal effort," the document added.
Detroit will need about "$850m just to address neighborhood blight in the next few years. Addressing the larger-scale commercial sites across the city could add an additional $500m to $1bn because of their much larger size and their potential for greater environmental issues," according to the 341-page report.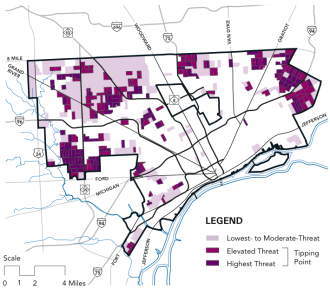 Of the 84,641 structures and vacant lots in need of intervention, "40,077 structures clearly meet the Task Force definition of blight" and the city has been urged to tear down these structures, the report said.
"Broken windows, piled-up trash, and scorched or stripped interiors of vacant structures have challenged Detroiters. Eliminating Detroit's blight will dramatically improve the next chapter of the city's story."
Detroit filed for bankruptcy in July 2013 and the former industrial powerhouse owes $18.5bn to thousands of creditors.
Detroit followed three California cities, Stockton, Mammoth Lakes and San Bernardino, all of which filed for bankruptcy in 2012. In 2011, the city of Harrisburg in Pennsylvania tried to file for bankruptcy, but the move was deemed illegal.