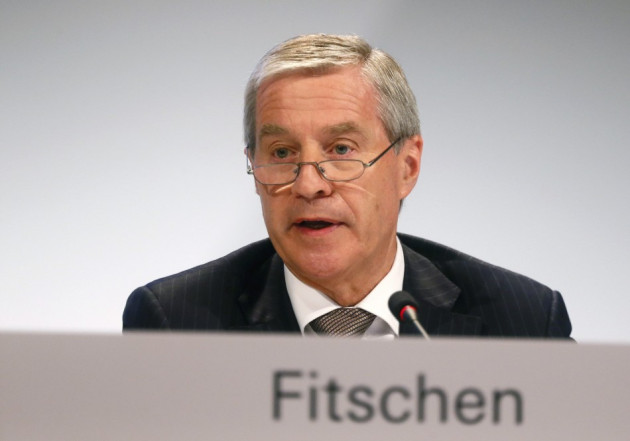 Prosecutors have told Deutsche Bank it could face a fine if suspicions about the testimony of Co-CEO Juergen Fitschen are confirmed.
The prosecutors have recently named Fitschen as a suspect in a lawsuit over the collapse of the Kirch media empire. Officials will check whether Fitschen gave misleading evidence to a court in the lawsuit.
"The Public Prosecutors' Office in Munich has informed the bank that if this suspicion is confirmed a fine may also be imposed on the bank," a spokesman for the bank told Reuters.
German newspaper Sueddeutsche Zeitung earlier reported that prosecutors are likely to fine Deutsche Bank.
Former Deutsche Bank CEOs Rolf Breuer and Josef Ackermann, former chairman Clemens Boersig and former board member Tessen von Heydebreck are already facing probes over their testimony in the lawsuit.
The decade-old lawsuit was brought by the heirs of late media mogul Leo Kirch, accusing the bank of damaging the family business.
Leo Kirch had claimed that the bank's former CEO Rolf Breuer triggered his group's collapse after he questioned the company's creditworthiness in a 2002 interview. Deutsche Bank and its officials denied the claims.
The lawsuit has been dragged through the courts for about a decade. In 2012, a Munich judge found the bank partially liable for Kirch's demise and said Kirch suffered damages ranging from €120m ($162m, £101m) to €1.5bn due to the bank. Subsequently, the bank has asked Germany's top civil court to review the ruling.
Deutsche Bank, which earlier extended Fitschen's contract as co-CEO until 2017, said in a previous statement that he would be cleared from the lawsuit.
"The bank is absolutely convinced that this suspicion will prove to be unfounded," it said.
Revamp in Trouble
Fitschen's naming in the lawsuit is expected to affect the company's restructuring measures to make itself a leaner and safer lender.
The bank said in 2012 that it plans a cultural transformation within it by exiting risky businesses, abandoning proprietary trading and implementing systems to prevent fraud by staff.
In addition to the Fitschen case, the bank is already facing a number of legal hurdles, including a probe into whether it manipulated the benchmark Libor rates.
In the third quarter of 2013, the bank set aside €1.2bn to cover its legal costs that resulted in a significant decline in its quarterly profit. At the end of the quarter, the company had legal provisions amounting to €4.1bn.
The bank was earlier sued by Fannie Mae along with eight other banks for a total of more than $800m, in a case accusing them of misrepresentation while selling mortgage-backed securities to the US mortgage company.
The bank is yet to negotiate a settlement with regulators over allegations of Libor rigging.