Dilma Rousseff has been suspended as Brazilian president and will face a full impeachment trial, the country's senate decided on 12 May.
Making a final statement, she said:"I may have committed mistakes, but I never committed crimes. It's the most brutal thing that can happen to a human being – being condemned for a crime you didn't commit. No injustice is more devastating."
The decision to enact an impeachment trial followed more than 20 hours of debate, after which the majority of senators voted in favour of a hearing that would investigate claims Rousseff used funds from state-run banks to cover government expenses.
It is alleged that this creative accounting, known as pedalling or 'pedaladas', allowed Rousseff to claim victory in the 2014 general election, and that had the true state of the budget been know, this would not have happened.
Fifty-five senators voted in favour of an impeachment trial and 22 voted against after debates on what a trial would mean for the country, with Attorney General José Eduardo Cardozo warning the country would become the 'biggest banana republic on the planet' if Rousseff faced an impeachment trial.
However, during the hours of debate, Senator José Serra said it would be a greater tragedy to continue with Rousseff in power than it would be to see her face an impeachment trial – echoing the majority view in the chamber.
Rousseff and her party, the Workers' Party, had claimed she was not the first president responsible for pedaladas, however this is believed to have occurred on a far larger scale under Rousseff than former presidents.
The country's first female president, who was elected in 2011, also claimed that the accusations against her and any potential impeachment were equivalent 'to a coup d'etat', denying wrongdoing.
She and her party have faced widespread protests from Brazilian citizens, who have demanded she face trial following the accusations of creative accounting.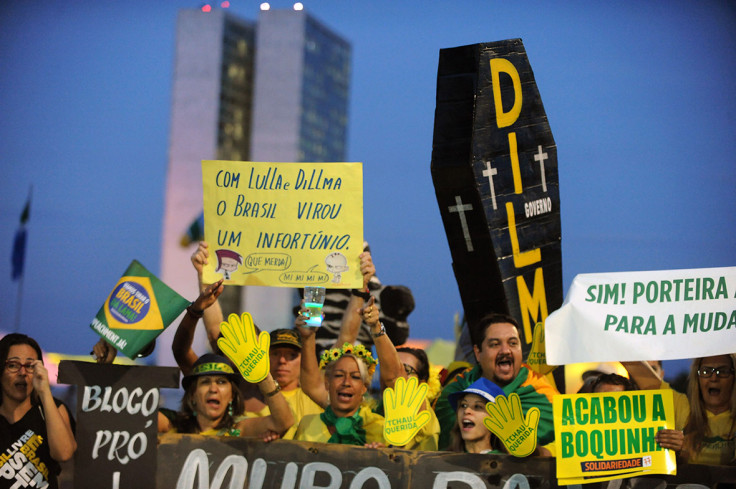 Under the terms of her impeachment trial, Rousseff will be suspended from the presidency for 180 days while it is decided whether her suspension will be permanent.
During this time, vice president Michel Temer will take over, although it is possible that Temer will also face impeachment over the Petrobras scandal, and there are fears he would spend his time in office attempting to avoid this.
He addressed the nation, saying: "Trust in me... trust in the values of our people and in our ability to recover the economy."
It has also been suggested Temer will need to assemble his own ministers, as it is believed Rousseff will instruct her own team not to be involved in any handover and will dismiss them from their posts.
Rousseff's trial is set to be overseen by Ricardo Lewandowski, the head of the country's Supreme Court, with a full senate vote held at the end of the trial.