Manchester United manager Sir Alex Ferguson says striker Dimitar Berbatov wants to leave the club following his restricted appearances last season.
The Bulgarian has fallen down the pecking order behind Wayne Rooney, Danny Welbeck and Javier Hernandez, leading to him making just 11 starts in all competitions last season.
Berbatov's agent has already admitted the 31 year old would like to join AC Milan following the sale of Zlatan Ibrahimovic, and Ferguson is consigned to his departure from Old Trafford.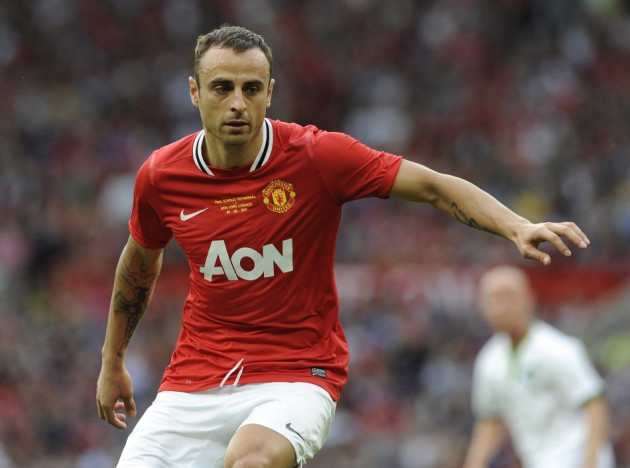 "I don't need to herald Dimitar's abilities," said Ferguson.
"He's a fantastic talent. He didn't get the amount of football he wanted last season. It's difficult for him at his age to accept second place in the forward line.
"The likes of Rooney, Chicharito and Welbeck were all in front of him last season. It's been difficult. But in fairness to him today he applied himself well and did very well with the first goal.
"The boy obviously wants to leave. That's a different matter. I'm easy about it. If he stays, I'll be happy. If somebody comes in for him and Dimitar wants to leave, we'll assess it."
Berbatov played a role in United's first pre-season win of the summer over AmaZulu; playing in Federico Macheda for the only goal.
United face Ajax Cape Town this weekend in their final game in South Africa before traveling to China to face Shanghai Shenhua and then to Europe to play Valerenga, Barcelona and Hannover prior to the resumption of the Premier League.
Shinji Kagawa was handed his first United appearance since joining from Borussia Dortmund but Ferguson was unsure whether the Japanese international was going to get on in Durban, after coming on with only a few minutes remaining.
"I never thought the boy was going to come on!" said Ferguson.
"He must have been standing on the touchline for 10 minutes. The ball never seemed to go out when we wanted it to! He only came on because of Chicharito having cramp. But I think he'll probably start on Saturday."
"We're satisfied," he added. "We always like to win our first game. It was a good work-out for us. In the second half, I thought AmaZulu increased their aggression and got closer to us, making it more difficult.
"In general, we showed some signs of tiredness towards the end, but we expect that in the first game of the tour. We played some good football and scored a nice goal. It was a good match."