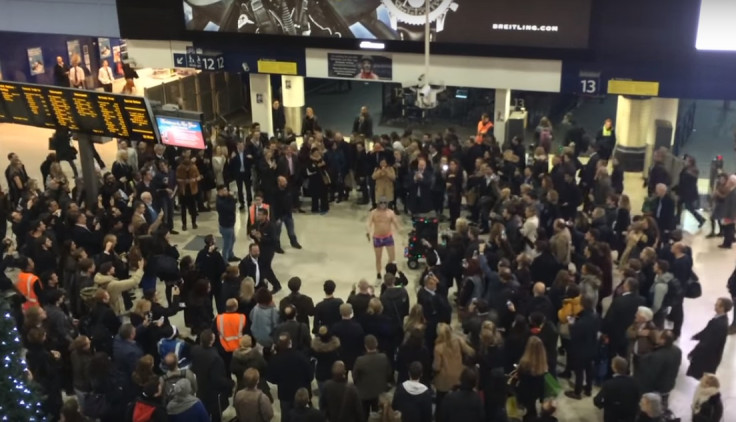 A prankster brought late-night commuters to a standstill this week after throwing a "Christmas rave" in the middle of Waterloo station. Discoboy, real name Lee Marshall, visits locations around the UK dressed in nothing but colourful boxer shorts and a fur cap with his one-man portable sound system.
Over 100 travellers stopped to watch the spectacle as Marshall rocked up at just after 10.30pm on Thursday 17 December. The 30-year-old DJ, from Canterbury in Kent, regularly attends public locations like shopping centres, supermarkets and restaurants.
His wacky routine has earned him a cult social media following with over 100,000 people liking him on Facebook. And his videos often getting upwards of 70,000 views on YouTube.
He has been prosecuted for his behaviour in the past but this time station staff just attempted to bring the one-man rave to an end quickly. In the video commuters join in to dance with Discoboy as he wheeled around his party-on-wheels.
Mr Marshall told the London Evening Standard: "It's just something I like to go and do in random places. It's a character I created and it got really addictive. I've got a big internet following, and I love doing it for the buzz, the adrenalin - will I get in there? Will people dance?"
During the video he dances around the station with 'Discoboy' scribbled on his chest as station officials do their best to keep straight faces and stop the performance. He has performed at airports and even in a police station but left Waterloo station early as he feared arrest.
"I find the London crowds just want to look on or film rather than get involved, but a few people joined in," he added. "I've got the impression that most people at a train station are businessmen, businesswomen, a hard crowd, but a few tweeted me saying they'd missed their train, but it was worth it."