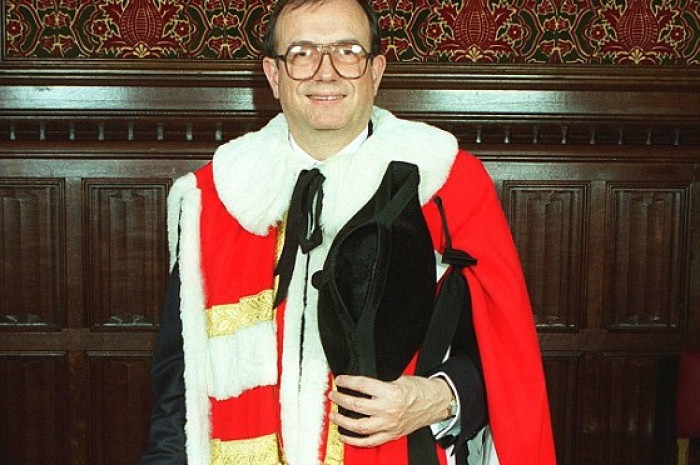 Labour Peer Baron John Sewel has resigned from his role as the House of Lords Deputy Speaker after a video emerged of him allegedly taking cocaine with two prostitutes.
The footage, obtained by the Sun on Sunday, allegedly shows the Labour peer snorting the Class A drug with two escorts at this flat in central London's Dolphin Square.
During the video, Sewel, a former close ally of former Prime Minister Tony Blair, can be seen telling the £200-a-night prostitutes how he wants to be "led astray". He was also seen flipping a framed photograph of his wife face down before stripping and engaging in sex games with the women.
69-year-old Sewel, who is also paid £84,000 a year role for his role as chairman of the Lords' Privileges and Conduct Committee, can also be heard expressing his disappointment that there wasn't a "nice little young Asian lady" with them that night.
"They sort of look innocent, but you know they're whores," he added. "That's a really nice combination isn't it?"
The House of Lords has now confirmed Sewel has resigned as both Deputy Speaker and chairman of the standards committee following the emergence of the video.
A spokesperson told the Press Association: "Lord Sewel has this morning resigned as chairman of committee, a salaried role.
"This means his is no longer in an official role.
"I do not yet know whether he intends to retire from the House, which is now possible under the rules."
Lords Speaker Baroness D'Souza said she will be referring Sewel to the police for investigation over the drug allegations.
She said: "Today's revelations about the behaviour of Lord Sewel are both shocking and unacceptable. Lord Sewel has this morning resigned as Chairman of Committees.
"The House of Lords will continue to uphold standards in public life and will not tolerate departure from these standards. These serious allegations will be referred to the House of Lords Commissioner for Standards and the Metropolitan Police for investigation as a matter of urgency."
Just a few weeks prior to the emergence of the video, Sewel wrote a comment piece for the Huffington Post in which he discusses how the House of Lords now has stronger sanctions to expel members who break the rules.
"All Members now sign a declaration to obey the code and the seven principles of public life," he wrote. "The requirement that Members must always act on their personal honour has been reinforced.
"No system of regulation can be perfect, but the House of Lords has come a long way since 2010 in improving its regulation of its Members and punishing the small number who misbehave. Today's new sanctions strengthen the regime further."
"The number of Members who break the House's rules is small," he added. "Most work hard and provide a valuable service in inviting the government to "think again" about big issues, scrutinising legislation and informing public policy debates. But the actions of a few damage our reputation.
"Scandals make good headlines. Preventive measures seldom do. It is not surprising that more column inches are devoted to scandals than to measures taken by the House to prevent wrongdoing by its Members."