'Disgustingly terrifying' video of python eating possum filmed in Australia
Brisbane woman records 3-metre long snake eating possum outside her home.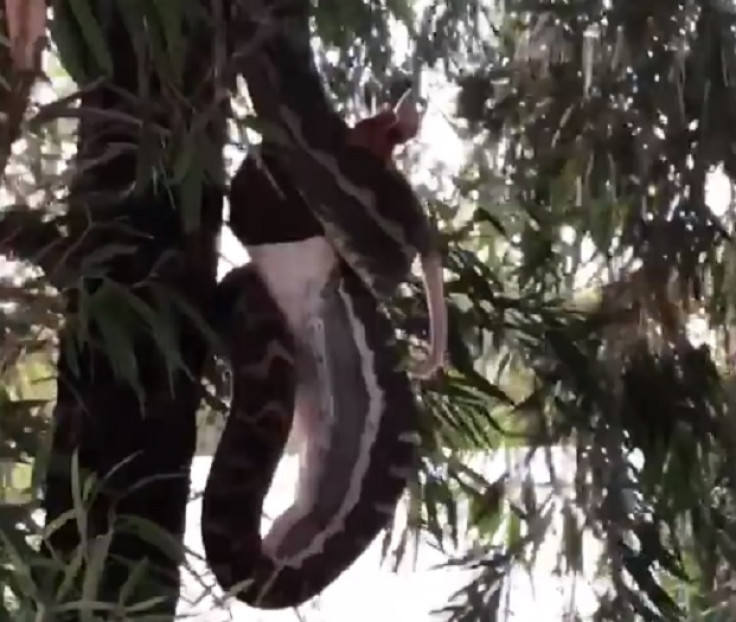 A woman in Australia has recorded a "disgustingly terrifying" video capturing a three-metre long python devouring a possum outside her home.
Courtney Hathway uploaded several clips of the python slowly eating the animal onto Facebook after spotting it in a tree in her front garden in Brisbane.
She said she noticed the snake after realising her pet cat was staring at something.
She wrote on Facebook: "When you get home from the gym, and try to move a cat hanging out in your drive way, and this is what I walk into, two metres from my living room. This is not okay"
Speaking to the Brisbane Times, Hathway added: "It was pretty strategic, the snake wrapped itself around possum for a bit, then it dropped it down and engulfed more," she said.
"It strangled it first then started munching on it.
"You could see the snake's muscles pushing it down and you could actually see where the possum was in the snake's belly.
"It was horrible. Although the snake was not dangerous, it was pretty confronting to see it right there."
Stewart Lalor, from Brisbane Snake Catchers, was eventually called to help deal with the python. He said: "I get at least two dozen possum jobs per season.
"Often the possum is already consumed when I get there, but there are about a dozen jobs where you get to see [the snake] digesting the possum."