Disney and Intel have launched a new light show experience for the 2016 holiday season at Florida's Walt Disney World Resort that uses small flying drones to synchronise and paint colourful images across the sky.
The light shows will feature 300 super light Intel Shooting Star drones that are made from Styrofoam and plastic, and only weight 280g. The unmanned aerial vehicles (UAV) are equipped with LED lights that can create over four billion different colour combinations, and they can be programmed and controlled from just one computer.
Disney has been interested in using drones for entertainment for quite a while, having filed a patent with the US Patent and Trademark Office in August 2014 describing a fantastic high-tech display whereby hundreds of drones emulate the floating lanterns scene from the animated film Tangled, as well as the idea of drones hoisting giant floating puppets of Jack Skellington above large crowds of people.
Unfortunately, the puppet idea is not yet safe enough to realise, and the floating lanterns will take some work, but the idea of drones flying in synchronisation to form light-based pictures in the sky is definitely feasible, especially when they weigh even less than a volley ball.
Intel drone technology set a Guinness world record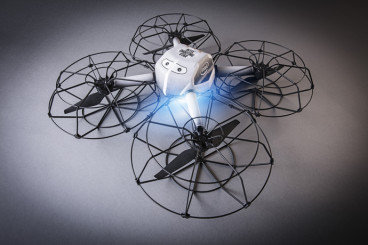 The show, entitled "Starbright Holidays – An Intel Collaboration" marks the first time a show-drone performance of this scale has ever been performed in the US, and the software controlling the drones makes it possible to cut down preparations for aerial light shows from weeks and months down to just days.
The drones will form typical Christmas images in the sky like Christmas trees and angels, and will be available to Disney World visitors in the Town Center, The Landing West Side and Marketplace neighbourhoods, where other seasonal entertainment will be happening at the same time, such as meet and greets with Santa Claus.
Intel previously set a Guinness world record by developing a 3D masterpiece entitled Drone 100 showcasing 100 drones flying together in the night sky to paint 3D images and messages to the accompaniment of a live orchestra in Tornesch, Germany in November 2015.
"We've never done something so big. To get the right permissions to fly, we showed the US Federal Aviation Administration (FAA) what our technology could provide, we showed them the Intel Shooting Star drones which are so lightweight... they have a prop cage so none of the props are ever touched by anyone else," said Intel's light show business lead Natalie Cheung.
"We've redesigned this drone so that it's safe. It's foam, there's no carbon fibre or screws. It's just something that is easy to carry and hold, and easy to fly."