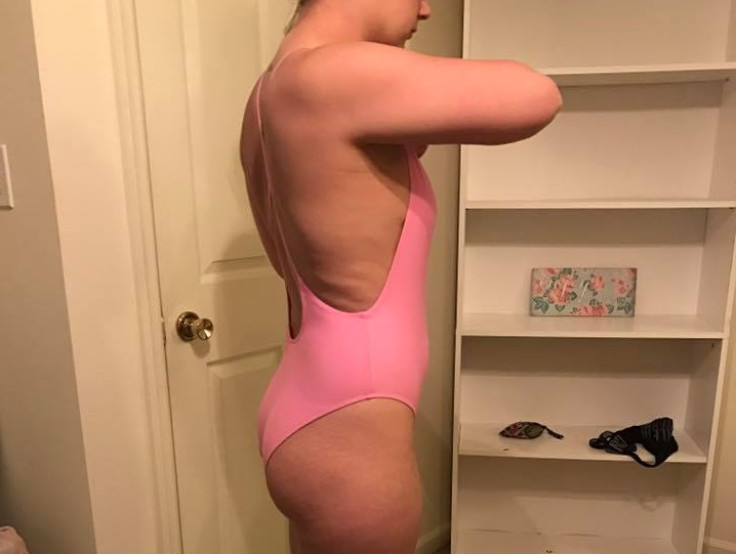 A woman has described how she broke down in tears after being ordered to leave the communal swimming pool outside her home because her bathing suit might "excite teenage boys".
Tori Jenkins, who was swimming in a pool outside her apartment near Knoxville, Tennessee, claims she was then told to pose for photos while in her pink one-piece swimsuit to show how "inappropriate" it was.
The 20-year-old's furious fiancé, Tyler Newman, took to Facebook to complain about the treatment – describing it as "rape culture".
Alongside photos of Tori wearing her bathing suit, he wrote: "I've never seen my fiancée embarrassed to the point where she can't even look her best friends in the face. I've never seen her cry like she did in our apartment today. Never seen her want to be isolated like that.
"All because some ignorant a******s think they can police the size and shape of her body. I've never seen a woman so disrespected."
He added: "My fiancée being told she should cover up on a 90 degree day in our own apartment pool because she will 'excite teenage boys' is b******t. I will not stand for this.
"My fiancée should be able to wear a bathing suit without being sexualised and demeaned. She shouldn't feel violated."
The pair had been at the Smoky Crossing Apartments swimming pool with five friends during particularly hot weather on Tuesday (21 June) when the incident occurred.
Newman said complaints to management came after they had been at the pool after just "three minutes, tops".
A leasing consultant for the residential block then told Jenkins she was more curvy than other women and needed to wear a normal bathing suit that "covers the whole butt", Newman wrote.
"In the office, the leasing consultant (who, for now, I will not name) insisted upon letting Tori take her picture to show 'how inappropriate' her bathing suit was, and instructed her to look into a mirror at her own body.
"When my fiancée replied with 'I know what I look like, I bought this myself, it's not a thong' the consultant told Tori that if she didn't have kids herself, she wouldn't understand.
"She was told 'there are a lot of teenage boys in this complex, and you don't need to excite them'."
He added: "I would never make her or any other woman feel less than what she's worth because of her outfit or her looks. This is how rape culture continues to grow."
The Facebook post prompted a flurry of responses from people, many in support of Newman and Jenkins.
"I'd just like to say on my own behalf that I'm really amazed by all of the overwhelming support I've received," Jenkins wrote on her Facebook page, with her story now shared more than 24,000 times.
While much of the feedback from social media users has been positive, some posted negative comments about her body, so much so that Jenkins deleted a picture that showed the front part of her swimsuit.
"I took it down after reading so many hateful comments about my stomach and so many intensely explicit sexual comments," she wrote on Facebook.
She added: "No man or woman has the right to make me feel uncomfortable in my own skin."